Sammy Wanjiru death: Shock, sadness and questions in Kenya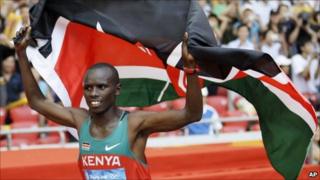 There is great shock and sadness in Kenya at the news that Samuel Wanjiru is dead.
At just 24 years of age, he still had great ambition to add to his already impressive medal collection.
Many questions are also being asked:
Did he commit suicide as one police chief has reported?
How can an ultra-fit athlete die when falling from a first-floor balcony less than five metres (16 feet) off the ground?
Why have there been different police reports of what happened?
To what extent did his considerable prize money contribute to his death?
"Sammy", as he was known, had had extraordinary success at a young age.
Having moved to Japan to train and race at the age of just 15, he broke the half-marathon world record at 18 and then won Olympic gold in Beijing at 21 - a moment which brought great pride to many Kenyans.
There were also London and Chicago marathon wins.
Fellow athletes have paid tribute to Wanjiru.
Kind and polite
"This is very shocking and sad news to all of us. We have lost a very young and talented athlete," said former marathon world record holder Paul Tergat.
"This is a guy we were all hoping still had a long career ahead of him. He was only 24 years old so he still had about another 10 years at the top of his career."
I interviewed Wanjiru last year and he came across as incredibly kind, polite and generous with his time.
I could not get over how young he looked, as well as the fact that an Olympic record holder was staying in a $25 (£15) Nairobi hotel ahead of his trip to London for the marathon there.
The police say the truth of how Wanjiru died will come out but conflicting reports have already been given.
"Wanjiru came home with another woman friend at around 2330 and then when his wife came home and found them she inquired who the lady was," Nyahururu police chief Jasper Ombati said.
"They got into an argument. His wife locked them in the bedroom and ran off. He then jumped from the bedroom balcony. We do not suspect foul play. In our estimation we think he wanted to stop his wife from leaving the compound."
From the capital, Nairobi, 150km (93 miles) away a different version: "The fact of the matter is that Wanjiru committed suicide," said national police spokesman Eric Kiraithe.
'Too much money'
The 24-year-old was having a turbulent relationship with his wife.
Last December Wanjiru was charged with threatening her life, assault and the illegal possession of a firearm.
Earlier this year Wanjiru and his wife said they had reconciled and she dropped a court case against him.
The court case over the illegal firearm was imminent and there are reports that he had returned home to meet his lawyer ahead of that case.
Some Kenyans believe his domestic problems were linked to his recently acquired wealth from prize money.
"He's a hero so it hit me really bad. There are many rumours going on I don't know what to believe," one Nairobi resident told the BBC.
"It is saddening but I was expecting it somehow because through his behaviour lately, it seemed he didn't know how to manage the money he had suddenly got," said a student at Nairobi University. "It was a case of too much money. If you have so much money people will come and want to help you spend it."
"He was a role model to many young people, especially athletes, so he has let down a lot of people," was another opinion on the streets of Nairobi. "Those who wanted to be like him are confused and lost now.
"He needed somebody to direct him. The money lied to him that he had everything and he could do anything in life and that was his greatest undoing."
Guidance needed?
From Kenya's athletics body there is great sadness and shock.
"He was such a jovial and friendly person and we were looking forward to him breaking the marathon world record in the near future," Athletics Kenya's Secretary-General David Okeyo told the BBC.
There have been suggestions that when he was not training, alcohol played a role in the athlete's problems but Mr Okeyo disagrees.
"As far as I am concerned I do not think he has had any big problem with alcohol. He was OK and it also didn't seem the court cases were affecting him," he said.
But questions are being asked about whether he could have been given better guidance given his age and humble beginnings.
"He was still a very young man, got married when still young and with the family and relationship issues, probably the athletics federation could have done more in counselling these athletes in how to handle their lives," Tergat said.
"People of a professional calibre could have really guided him and counsel how to live a more productive life for many years to come," he added.
Very dedicated on the track and haunted by domestic problems off it, Kenya has lost a hugely talented athlete at a tragically young age.