Killed in Western Sahara by a bomb shaped like a ball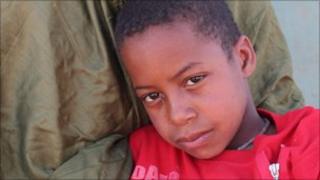 Twenty years after a ceasefire brought a halt to a long-running conflict in Western Sahara, cluster bombs used by the Moroccan armed forces are still claiming victims - among them children attracted by their toy-like size and shape.
Out herding goats with his younger brother Hassan, 13-year-old Said caught sight of what he thought was a small ball.
He threw a stone at it to check. It exploded instantly - embedding metal fragments into his chest and neck. He died of his injuries in hospital three days later.
Four years after his brother's death, Hassan, now nine, cannot wipe the images of what happened from his mind.
For months he did not speak - even today he remains quiet and withdrawn.
Said is one of 2,500 people to have been wounded or killed by cluster munitions and landmines in the years following the 1975-1991 conflict in the disputed North African territory of Western Sahara.
He was killed by a BLU 63, the size and shape of a tennis ball, dark green in colour and the most widely used cluster munitions in the conflict.
A cluster bomb contains hundreds of these bomblets, which it releases as it falls.
The BLU 63 bomblets have little fins or "flutes" that make them spin as they drop. In theory, the fuse in each goes off when they reach a certain number of revolutions per minute. Each bomblet goes off at roughly the same time, killing people or destroying vehicles over an area equivalent to two or three football pitches.
However, many fall to earth without detonating, where they may lie for years, until someone - often a civilian - stumbles across them.
According to the Cluster Munition Coalition, which campaigns for a worldwide ban on the weapons, almost two-thirds of cluster munition casualties are civilians, injured as they go about their day-to-day lives - and half of these civilian casualties are children like Said.
During the 16-year conflict in Western Sahara, Moroccan armed forces used artillery-fired and air-dropped cluster munitions against the Polisario Front, which, backed by Algeria, attempted to create an independent state for the Sahrawi people.
Most of these cluster munitions were produced in the US - the number of bomblets supplied by the US to Morocco up to 1995 is put, by UN agencies and others, at 2.5 million.
The good news is that 20 years since the end of the conflict, large areas have been made safe, including the region of Mehaires, where Said was killed.
People are moving back to the region from refugee camps, small businesses are expanding and children are able to play or herd their animals in safety.
Of the 10,000 cluster bomblets cleared from the eastern part of the region by the non-governmental organisation Action on Armed Violence roughly two-thirds have been BLU 63s.
The bad news is that 130 sq km (50 square miles) of suspected minefields still has to be cleared in the east of the territory alone, and a buffer strip on either side of a 1,000-mile defensive wall dividing the country is thought to be heavily contaminated with ordnance of every kind.
The area remains too politically sensitive for any clearance operation.
Said's experience proves that cluster bomblets, like landmines, can pose a hazard years, or even decades, after soldiers have left the battlefield.
But while an international treaty banning anti-personnel landmines was signed as far back as 1997, and came into force before the end of the century, a convention banning cluster munitions was only agreed in 2008.
It came into force last year, and has been ratified by 57 states.
Major producers of cluster munitions, such as the US, Russia and China, have yet to sign up, but Steve Goose, Arms Division director of Human Rights Watch, sees the treaty as a death knell for this kind of weapon.
"The stigma will grow and deepen over time, and ultimately make the use of cluster munitions unthinkable by anyone," he says.
The US has already passed legislation banning exports of cluster munitions unless 99% or more of the bomblets can be guaranteed to explode - a standard very few existing US weapons meet.
And while Washington has not signed the Convention on Cluster Munitions this does not mean that it will not feel pressure to comply with it, Human Rights Watch points out.
It has not signed the mine ban treaty either, but it has not used, exported, or produced any anti-personnel landmines since the treaty was negotiated.