Nigeria gunmen kidnap Briton and Italian in Kebbi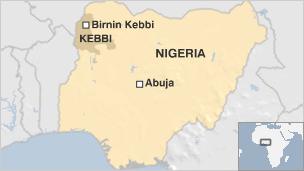 Gunmen in Nigeria have kidnapped two foreign engineers in the north-west state of Kebbi, the police have said.
State police commander Adamu Hassan told the BBC a British man and his Italian colleague were taken from their lodgings on Thursday evening.
A Nigerian neighbour who came to help was shot and is in hospital.
The BBC's Haruna Shehu Tangaza in Birnin Kebbi city, where the raid took place, says kidnappings for ransom are uncommon in the north-west of Nigeria.
It is the southern oil-producing Niger Delta where expatriates are often targeted for kidnapping.
Our reporter says the men were working for B Stabilini, an Italian construction firm based in the Nigerian capital, Abuja.
During the incident on Thursday evening, another Italian employee managed to escape by scaling a fence, he says.
"The kidnappers have not established any contact with us and have so far not demanded for any ransom," AFP news agency quotes Mr Hassan as saying.
He said that immediately after the incident all routes out of the state were blocked by the security forces.
The workers were involved in the construction of the state headquarters for the Central Bank of Nigeria in Birnin Kebbi.