Benghazi: 'We're all volunteers now'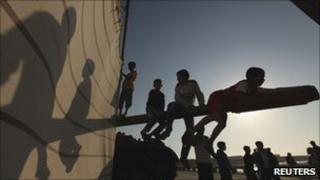 I'm strolling along the blustery seafront in Benghazi.
A middle-aged man rushes up to me. He grins, and then starts to pant heavily.
It takes a few awkward moments before I work out that he is miming - he wants to tell me that Libya was suffocating, but now people here can breathe again.
Col Muammar Gaddafi's leering caricature is scrawled on the walls around the harbour. A captured tank points its barrel out to sea. On a tent beside it, someone has painted the words "No Fear".
There is still a giddy sense of pride and optimism here, in the city where Libya's revolution began.
"Look at the pavements," says Molly Tarhuni.
She is a young academic who packed a rucksack and rushed back from a life in exile in London to help with an uprising that she had confidently predicted was still years away.
"How wrong I was," she says, and points down to the kerb.
Some young children roped off the road here yesterday and, apparently on their own initiative, painted neat black and yellow stripes along the edges.
We pass another group of teenagers who are setting out with brooms to tidy up a city square.
"We're all volunteers now," says Ms Tarhuni.
"There's so much energy. We all know the challenges but there's such a buzz here now."
Ms Tarhuni is helping out in what passes for the local administration - translating documents, writing letters, trying to help build a brand new state, from scratch.
It is chaos, she admits.
"Some days I think we'll never get anywhere. But we are making progress. Perhaps it's naive, delusional, but we believe we can win this war. No-one here is ready to see Libya remain divided."
Guns and grudges
I pass a tiny stationery shop, and the owner, 80-year-old Abu Salan Tashani, rushes out to say hello.
In 1947 he opened a bookshop just down the road.
"But I sold foreign books, history books. Gaddafi didn't like them," he recalls.
"The police came and gave my shop to someone else. I never got it back."
Mr Tashani takes out a pile of fading souvenir postcards, showing Benghazi in the 1970s.
"I took the photos," he says. "You can see my children in some of them."
I ask him if Col Gaddafi's time is running out. He shrugs and raises his white eyebrows hopefully.
It is surprising the city feels so calm, given how many guns and grudges there must be here.
Nato fighter jets can take some of the credit for keeping Col Gaddafi's army at bay.
But the tribal and political rivalries that still cause so much concern across Libya seem almost invisible on the streets.
'In for a long fight'
After a day visiting the deadlocked frontlines an hour and a half's drive south of Benghazi, I arrange to meet a man called Muhammad Abu Nnaga.
In 1998, he and some friends were arrested by Col Gaddafi's police, taken to Tripoli, beaten, starved, and held in a tiny dark cell for three years.
Only then were they charged - with plotting a coup.
"It was ridiculous, we weren't political," says Mr Nnaga.
"I was a medical student. We were interested in charity and civil society. But we were organised, and the regime saw that as a threat."
The judge turned out to be a distant relative. But he had his instructions, and sentenced Mr Nnaga and nine friends to 10 years in prison.
He was released early in 2006, at the age of 29.
"I came home scared. My parents were scared too. I felt dead - as if there was no more meaning to life."
As he tells me this, on a bench overlooking the harbour, the crowds start to gather nearby, ready for another afternoon of speeches, marches and revolutionary songs.
"Now I think we're in for a long fight," says Mr Nnaga as he prepares to head off to join a youth group he is organising.
"Gaddafi's greatest crime was to take away our dreams. But now we have our dreams back, and we won't let them go."