Somalia drought: Aid agencies in new warning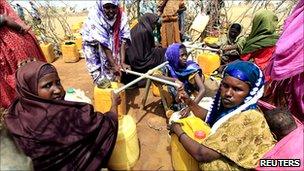 Almost one third of Somalia's population is suffering from drought, a coalition of aid agencies says.
The 31 groups - including Save the Children, Oxfam and World Vision - say the current drought is one of the worst in living memory.
Livestock are dying and cereal prices rocketing, because the rains are late and sparse.
An estimated 2.4 million Somalis are at risk of losing their livelihoods, or their lives.
Some 241,000 children across Somalia are acutely malnourished, of whom 57,000 are severely malnourished, the coalition says.
Although East Africa is prone to drought, this year's recent drought has been unusually severe.
The next harvest - due in July and August - is likely to be way down. Cereal prices have already shot up 135% on last year, aid workers say.
"I have lost everything," said Mohamed Ali, a pastoralist in Lower Shabelle Region.
Only four months ago, Mr Ali was a wealthy pastoralist with 250 cattle. Today, the fields around his home are littered with dead carcasses.
He is one of thousands of pastoralists that have lost their livelihoods, and become destitute.
Recently he slaughtered his last cow to sell its hide for $2 (£1.2). This was his last opportunity to raise income to feed his children.
Last month, the UN's Food and Agricultural Organisation told the BBC that one in four Somali children were malnourished - one of the highest rates in the world.
Aid workers are urging the international community to increase and diversify humanitarian funding to save lives, and to provide longer term funding for development in order to re-build livelihoods lost to the drought.
The hardship comes on top of decades of fighting in some parts of the country.
Somalia's UN-backed government only controls a few parts of the country.
A militant group linked to al-Qaeda is battling the government in the capital, Mogadishu.
Related Internet Links
The BBC is not responsible for the content of external sites.