Zimbabwe civil servants exposed by World Bank report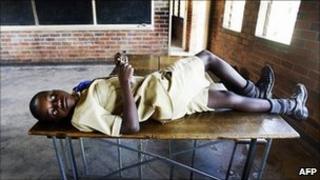 Almost half of Zimbabwe's civil servants are either not qualified or are not working, according to a leaked World Bank report obtained by the BBC.
Trade unions estimate that $15m (£9m) of state money is being lost each month paying such workers.
Auditors found that one ministry appointed nearly 7,000 people on one day ahead of the 2008 election run-off.
The BBC's Karen Allen says either the civil service is incapable or state funds are used for political ends.
Our correspondent says the damning findings of the audit have been with the cabinet for several months but it is understood it has not yet been discussed.
The audit was carried out by Ernst and Young India in 2010 and covered the period 2007-9.
This was a period when Zimbabwe's economy was in meltdown - because of run-away inflation, the monthly salary of a teacher hardly paid for a single bus fare.
This might partly explain why on the day of the audit, some 13,000 public workers were absent - from a total of 180,000.
It found that 75,000 state workers did not have the qualifications needed to do the job.
Correspondents say little has changed now.
'Frantic'
Since the power-sharing government was set up in 2009, an extra 40,000 civil servants have been employed.
The ministry for indigenisation and youth employed nearly 7,000 people on a single day between the first and second round of the 2008 presidential elections.
This was a time when the military and supporters of President Robert Mugabe were accused of systematically assaulting those believed to have voted for his rival, Morgan Tsvangirai, in the first round.
Raymond Jongwe, head of the Progressive Teachers Union, said there were still individuals who, for political reasons, were "frantically working to keep these people on the wage bill" with elections likely to be held next year.
Tiseke Kasambala from Human Rights Watch says she fears that President Mugabe's Zanu-PF party is continuing to fund youth militias to intimidate people in rural areas.
Leaks of the report have been dismissed by Zanu-PF but it was unable to give the BBC a comment.
Mr Tsvangirai's Movement for Democratic Change party, which joined a unity government in order to halt the economic collapse, has been criticised for failing to speak out about the report.