The Gambia profile - Leaders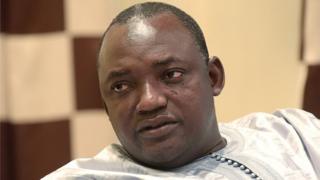 President: Adama Barrow
Adama Barrow defeated long-serving President Yahya Jammeh in a shock election result in December 2016.
Mr Barrow, a property developer, ended Yahya Jammeh's 22-year authoritarian rule by winning more than 45% of the vote.
A member of the United Democratic Party, during his election campaign Mr Barrow pledged to revive the country's economy. When Mr Jammeh refused to step down, Adama Barrow took the oath of office at the Gambian embassy in neighbouring Senegal. The outgoing president eventually left for exile in January 2017 after mediation by regional leaders and the threat of military intervention.
Mr Jammeh had seized power in 1994 as a young army lieutenant and went onto win four widely criticised multi-party elections and face down several coup attempts.