The Gambia country profile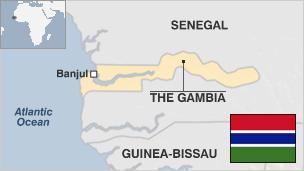 The Gambia is one of Africa's smallest countries and, unlike many of its west Africa neighbours, has enjoyed long spells of stability since independence.
President Yahya Jammeh ruled the country with an iron fist after seizing power in a bloodless coup in 1994. His 22-year rule came to an end in 2016, when he was defeated in a shock election result by the main opposition candidate, Adama Barrow. Mr Jammeh only left office after mediation by neighbouring countries and the threat of armed intervention.
Stability has not translated into prosperity. Despite the presence of the Gambia River, which runs through the middle of the country, only one-sixth of the land is arable and poor soil quality has led to the predominance of one crop - peanuts.
Tourism is an important source of foreign exchange, as is the money sent home by Gambians living abroad. Most visitors are drawn to the resorts that occupy a stretch of the Atlantic coast.
Adama Barrow defeated long-serving President Yahya Jammeh in a shock election victory in December 2016.
Mr Barrow, a property developer, ended Yahya Jammeh's 22-year authoritarian rule by winning more than 45% of the vote.
A member of the United Democratic Party, during his election campaign Mr Barrow pledged to revive the country's economy.
Adama Barrow's inauguration as president in 2017, ending 22 years of rule by former leader Yahya Jammeh, raised hopes of a new era of respect for media freedom, says Reporters Without Borders (RSF).
RSF says the former president oversaw a "climate of terror" for the media.
Some key dates in Gambia's history:
1889 - Present boundaries of The Gambia set by agreement between Britain and France; five years later it becomes a British protectorate until its independence in 1965.
1982 - The Gambia and Senegal form a loose confederation called Senegambia, which collapses in 1989.
1994 - Lieutenant Yahya Jammeh takes over the country in a coup. He is elected president two years later in a vote that three major political parties were barred from taking part in. He goes on to win three more elections and defeat several coup attempts.
2013 - President Jammeh announces Gambia's withdrawal from the Commonwealth, describing it as a "neo-colonial institution". Critics say the move was prompted by wide-spread international condemnation over the government's human rights violations.
2015 - President Jammeh declares the country an Islamic republic to break from the country's "colonial legacy".
2016 - President Jammeh's 22-year-rule ends in a shock election defeat by Adama Barrow. Mr Jammeh chooses exile in Equatorial Guinea.
Related Internet Links
The BBC is not responsible for the content of external sites.