South Africa: Julius Malema anger over open-air toilets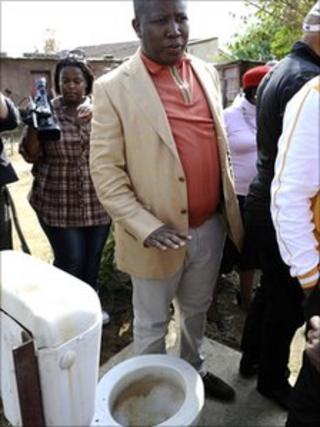 South Africa's firebrand youth leader Julius Malema has hit out at officials for building open-air toilets.
He was in a township run by the ANC in Free State province where there are some 1,600 toilets with cisterns and pipes but no surrounding wall.
"Heads must roll," said Mr Malema, head of the ANC Youth League. The league had taken an opposition party to court over a similar issue.
The matter is proving embarrassing for all parties ahead of local elections.
'No dignity'
The toilets can often be seen from several houses in a neighbourhood and are a delicate issue ahead of the elections on 18 May.
The African National Congress (ANC) Youth League had taken the opposition Democratic Alliance to court over the issue in the Western Cape.
Last month, a high court ruled that the DA-run municipality should provide shelters for about 1,300 open-air toilets in an area of Khayelitsha, outside Cape Town.
Top ANC officials, including Mr Malema and Sports Minister Fikile Mbalula, on Tuesday toured Rammulotsi township in the central Free State province where residents showed them the toilets.
The residents said the ANC-led council had told them they could not afford to erect enclosures, South Africa's Mercury newspaper reports.
"We condemn open toilets. It's inhumane," South Africa's Times paper quotes Mr Mbalula as saying.
"There's no privacy, no humanity and no dignity."
A household survey published last week by Statistics South Africa, said the percentage of houses in the country with no toilets or bucket toilets had decreased from 12.6% in 2002 to 5.9% in 2010.