Ugandan opposition leaders sprayed pink to stop rally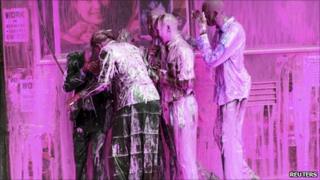 Ugandan police have sprayed opposition leaders with a pink liquid to stop them holding a banned rally in the capital.
After the drenching, Democratic Party leader Norbert Mao was then arrested.
This week, opposition parities have stepped up their campaign over high prices, which has led to recent clashes between the police and protesters.
Meanwhile, President Yoweri Museveni has said to curb riots he wants a new law to deny bail for six months to those arrested while protesting.
Mr Museveni, who has been in office for 25 years, is due to be sworn in again as president on Thursday.
Uganda's main opposition leader Kizza Besigye lost to Mr Museveni in February in polls he says were rigged.
Dr Besigye is in Kenya where he was receiving treatment after being assaulted in April by police during a "walk-to-work" protest over the rising cost of living,
The BBC's Joshua Mmali in Uganda's capital, Kampala, says the police and military blockaded the entrance to the city's Constitutional Square where the opposition parties wanted to hold their rally.
The police then intercepted the opposition leaders' procession, which was heading towards the square, with dogs.
When this failed to stop them, they were drenched in the pink liquid sprayed from nearby trucks.
Before Mr Mao was hauled into a police van he told the BBC there was "no justification" for the police action.
"I don't know what liquid it is. I don't know whether it is lethal or not, but there was no justification for pouring those liquids on us," he said.
"We were simply accessing this place and the police needed to exercise restraint."
The police say political gatherings have been banned at the square since 2007.
Last month, riots broke out in Kampala in protest at the rough treatment meted out to Dr Besigye by the security services during his arrest on 29 April.
Plain-clothed policemen beat up his supporters, smashed the window of his car and doused the inside with pepper spray and tear gas before manhandling him into a vehicle and driving off.
The authorities say Dr Besigye provoked them - and he was charged with inciting violence.
Before the polls, Dr Besigye had called for Egypt-style uprisings in the event of fraud.