Sudan: Could Nuba mountains be next conflict?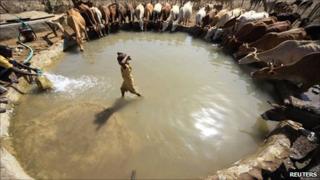 The seemingly tranquil village of Kauda in central Sudan's beautiful Nuba mountains poses one of the greatest challenges to Khartoum.
South Sudan will become independent in July, following a long civil war. But that does not mean the country left behind is united.
The people of the Nuba mountains, in the north, are on a collision course with President Omar al-Bashir and his party.
The Nuba are a collection of language groups that are sometimes described as more a political or geographical entity than a homogenous ethnic group.
They follow Islam, Christianity, or traditional religions - but crucially, most see themselves as very different from the Arab elites in Khartoum.
"Despite all the talk about my Arabism, my religion, my culture, I am a Nuba, I am black, I am an African," is how the late Nuba war hero Youssif Kawa Makki put it.
Many Nuba rejected what they saw as attempts to Islamise and Arabise them.
"They [Arabs] discourage you that your religion is not good, tell you to just be a Muslim. They can give you money to change your name to a Muslim one. Anything about your culture, they can destroy it," says Kuku Idriss, a Nuba youth leader.
'Genocide'
During the second north-south civil war, many Nuba fought on the side of the southern Sudan People's Liberation Army (SPLA) rebels, now set to form the new country's government.
The SPLA is often seen as a southern movement, but its stated aim was to reform the whole country, creating a new Sudan, a secular state where diversity was respected.
This resonated very strongly with many Nuba.
The fighting in the Nuba mountains was particularly fierce.
In 1992, a jihad or holy war was declared, allowing northern troops and Arab militias to kill even those Nuba who were Muslim.
Human rights organisation Africa Watch likened the attacks on the Nuba to genocide.
A ceasefire was signed in 2002, but it is no surprise that feelings against President Bashir still run high.
Beer drinkers
In Kauda, at least, people have every chance to express their anger.
The village is essentially under the control of the SPLM, the political wing of the SPLA.
"In fact, all the counties round here are controlled by the SPLM," says the party's local chairman, Younan Ajour.
Life here is very different to most of northern Sudan.
Local alcohol, like the heady beer marissa, is openly sold, in defiance of the Sharia, or Islamic law, officially imposed in the north.
Women brew it in their homes, then bring it to a line of rough shacks and pour it into calabashes for thirsty customers.
"We don't appreciate Sharia, and don't want it to reach us here," says one drinker, Angelo, an SPLA soldier.
"We have our independence and we hope in the future to be independent," he adds.
The alcohol is not the only difference.
Students in Kauda are taught in English, not Arabic, and sit exams from Kenya or Uganda.
A young teacher, Yassir, says he has 94 students in his class.
He brushes aside the suggestion the separate curriculum and language of education could leave the pupils out of step with the rest of the north.
"We are planning to have our own universities, which will be operated in English," he says.
Peace, not war
In a well-publicised recent speech, President Bashir said once South Sudan secedes, there would be no place for ethnic or cultural diversity in the north, and Islam would be the sole source of law.
This has got many Nuba worried.
"We don't want a war, we need peace," says Mahmoud Badawi, who has set up Kauda's only hotel.
But that does not mean simply giving in.
Tens of thousands of Nuba soldiers are in the SPLA in the south, and will almost certainly return to their homeland after southern separation - possibly with their weapons.
Officials and ordinary people say there is no way they will give back Kauda or any of the other "liberated territories".
"We know our people are very strong, they are very patient, but we don't forget our grievances," says politician and historian El Nour Burtail.
"Our nature as you can see is mountainous, and when we move, we are strong like mountains."
War crimes
The Nuba mountains are at the heart of Southern Kordofan state, which borders South Sudan.
Stability here is crucial not just for the north, but for the south.
Southern Kordofan is also next to Darfur, where a separate civil war, albeit one based on Khartoum's neglect of the periphery, rumbles on.
Southern Kordofan's governor, Ahmed Haroun, is wanted by the International Criminal Court for war crimes and crimes against humanity allegedly committed when he was in Darfur, adding to Nuba unease.
The tensions have infected the whole state, with SPLA soldiers and forces loyal to President Bashir's National Congress Party everywhere.
This month's elections are meant to lead to popular consultations on the region's future - but to the dismay of many in the Nuba mountains, this does not include the option of independence.
The election results themselves could also spark off real problems.
The Nubas' determination to be different has been a problem for Khartoum for years, and that is almost certain to continue.
It is not hard to find people offering dire warnings - like Najwa Musa, the head of the Nuba Relief, Rehabilitation and Development Organisation.
"If they will continue to impose the Sharia law, the Islamic religion and the Arabic language on the people, you will see a new Darfur coming up."