Liberia and EU sign deal to end 'logs of war'
By Jonathan Paye-Layleh
BBC News, Monrovia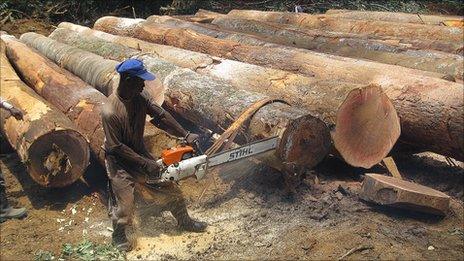 Liberia and the European Union have signed a deal to prevent illegal timber exports and kickstart the country's forestry industry. But is it "green" enough?
Liberia is home to 45% of the rainforests in West Africa, but for many years its timber industry was rooted in corruption.
Former President Charles Taylor, currently on trial for war crimes, was accused of selling "logs of war" to fund his brutal regime, forcing the UN to place sanctions on timber exports.
Mr Taylor argued that he had to sell timber to buy weapons as his government was faced with a rebellion on two fronts.
The sanctions were lifted in 2006, but the promises of a new dawn for the Liberian timber industry under Ellen Johnson-Sirleaf's government have not yet been realised.
Several companies have applied to begin logging on an industrial scale. But most have yet to meet the requirements to be granted a license.
The deal is designed to ensure that any timber arriving in Europe from Liberia can be traced back to a legal source. Globally, 20-40% of industrial wood production is derived from illegal sources, and up to 20% finds its way into the EU.
For Liberia, the hope is that the deal will give a green light for foreign timber firms to invest and boost the economy.
Prior to the UN sanctions, timber sales were responsible for 20% of Liberia's GDP, and the EU accounted for more than half of Liberia's timber exports.
"This historic agreement is a stepping stone for a new, stronger Liberia, built on principles of good governance, transparency, and rule of law," said Agriculture Minister Florence Chenoweth.
"In the past, Liberia's natural resources have been used to drive conflict and greed that benefited few and destroyed many lives. Now it is clear that we are committed to ensuring the gifts from our forests will benefit all Liberians now and in the future."
The new timber accord is part of a series of agreements negotiated between the EU and major timber producing countries, including Ghana, Cameroon, the Central African Republic, Congo-Brazzaville, and most recently Indonesia.
The agreement, which is legally binding, defines what constitutes legal timber in the producer country and sets up a system to verify compliance and ensure that timber for export can be traced back to the source.
"I am pleased to see that yet another country has joined our common fight against illegal logging", said EU development commissioner Andris Piebalgs.
"This decision will contribute to sustainable development and poverty alleviation in Liberia on the one hand, and will benefit the European consumers because they can be sure that Liberian wood is from a legal origin."
In recent years, Liberia has taken steps to reform its timber industry, using innovations such as "tree barcoding" to ensure each log exported can be traced to a legal source.
But in spite of these schemes, the current health of the timber industry is far from perfect, environmental groups point out.
Many of the new timber concessions granted under Mrs Sirleaf's government were signed "in violation of Liberian law", according to a 2009 assessment by Liberia's Sustainable Development Institute.
He said: "To control illegal logging, there must be strong political will on the part of the EU and the Liberian government, as well as the active participation of civil society actors, including local communities.
"Without that, the VPA will be used simply to 'greenwash' illegal logs from Liberia."
Charles Miller, a forestry expert playing a coordinating role between the company and the government, says the EU deal will force companies to change the way they operate.
They "will have to settle all of their obligations to the government and to the community; they will follow environmental rules, and the concession areas will not be polluted," he said.
This will also mean that "chemicals and oils will not be wasted in rivers and streams," he added.
The south-eastern Rivercess county is home to some of the richest forests in Liberia, but the region is sadly among the country's poorest.
Many people in the county, and in nearby Grand Bassa, still live in mud-plastered huts that are roofed with leaves.
Bob Greene, a spokesman for local citizens, is worried about the fast pace at which logs are leaving their forests:
"The forest is being depleted, and everyone depends on this forest," said Mr Greene. He warned that if no measures are taken to preserve the forest, "within 25 years, there will be no forest left" in the county.
But Moses Wogbeh, managing director of the Liberia Forestry Development Authority, countered this assertion.
Granting a concession to company "is not just cutting the forests from place to place; there are measures put in place to ensure the forests are not eliminated," he told the BBC.
Mr Wogbeh believes the agreement with the EU should be embraced because through this "the world will know there is now legal timber originating from Liberia and our market will be open to the rest of the world."
Already some European businesses have come in search of this valuable commodity.
Pierre Piquet, a wood-buyer from France, was in the port city of Buchanan last weekend, negotiating for timber.
He told the BBC that "Liberia is a good country with good forests."
Mr Piquet named more than six wood varieties that he said are globally scarce but found in Liberia - wood "that the European market needs."
Related Internet Links
The BBC is not responsible for the content of external sites.