Libya rape claim woman Eman al-Obeidi flees to Tunisia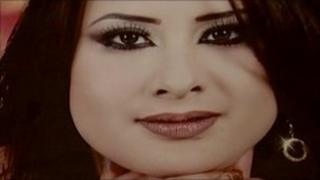 Eman al-Obeidi, the Libyan woman who burst into a Tripoli hotel full of foreign journalists and claimed to have been raped by supporters of Col Muammar Gaddafi, has escaped to Tunisia.
Ms Obeidi told CNN she crossed the border on Thursday, with the help of military officers who were defecting.
She said she left Tripoli in a car in a head cover that revealed only one eye.
In March, she told journalists she had been held for two days and raped by 15 militia men loyal to the Libyan leader.
Her case is the best-known of the conflict, but there have been many other reported cases of rape used as a weapon of war, observers say.
Pictures of Ms Obeidi's forcible removal from the Rixos hotel by Libyan security officials were filmed on 26 March and shown worldwide.
The Libyan government denies she was raped, and her alleged attackers have launched a legal case against her for defamation.
Ms Obeidi is reported to have been taken to the French embassy in Tunis at the weekend, according to CNN.