Tunisia imposes overnight capital curfews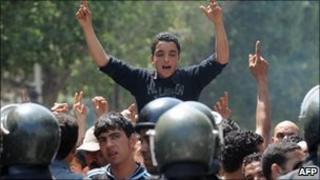 Authorities in Tunisia have imposed an overnight curfew in and around the capital, Tunis, after days of unrest.
The curfew will run every evening until 0500 local time (0600 GMT), the country's defence and interior ministries said in a joint statement.
Some of the protests were organised by supporters of former Interior Minister Farhat Rajhi, who has become a vocal figure in the pro-democracy movement.
Tunisia's President Zine al-Abidine Ben Ali stepped down amid January protests.
Saturday's protests took place in the city's deprived district of Ethadamen.
The district was at the centre of protests in January during the uprising that led to the fall of Mr Ben Ali.
The joint statment by the defence and interior ministries said that the curfew was needed because of "violence and pillaging" on the edges of the capital.
On Friday the interior ministry apologised for a brutal police response to protests against the transitional government in which tear gas and truncheons were used.
There were also unconfirmed report of unrest in the southern city of Gabes and in Sidi Bouzid, in the centre of Tunisia, where the uprising originally began in December last year.