Libya 'scatters mines' in Misrata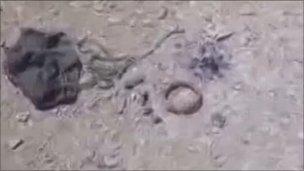 Government forces in Libya have been scattering land mines in the port city of Misrata, according to rebels and video footage.
The use of Chinese anti-vehicle mines was verified by Human Rights Watch.
Rebels said forces loyal to Libyan leader Colonel Muammar Gaddafi had also bombed fuel tanks in Misrata, setting them on fire.
Misrata is Libya's third-largest city and a key port. It is largely controlled by rebels fighting to topple Col Gaddafi, but has been under siege for weeks.
The rebels said on Saturday that Italy had agreed to provide them with weapons "very soon".
But foreign ministry officials in Rome said they would only supply "self-defence material" - as agreed during an international meeting in Doha last month - not assault weapons.
On Friday Amnesty International said pro-Gaddafi attacks on Misrata that included the use of heavy artillery, rockets and cluster bombs, might amount to war crimes.
The government has consistently denied reports it is using cluster munitions.
According to a report in the New York Times, more than 20 of the Chinese Type 84 Model A mines were dropped by mini-parachutes in Misrata from rockets late on Thursday night, the report said.
Shortly afterwards, a port supervisor said one of them had exploded under a patrolling truck, wounding two men inside.
Previously, Nato forces involved in the international mission in Libya had cleared anti-shipping mines that had been planted off the coast of Misrata.
There were also unconfirmed reports from rebels that pro-Gaddafi forces were using helicopters with the Red Cross or Red Crescent insignia to carry out their assault on Misrata.
There were conflicting reports on how the fire at the fuel storage tanks started.
The rebels alleged that crop-spraying planes were used by loyalist forces to drop explosives on the tanks.
Initial reports said they had been hit by a missile.
The tanks held an important source of fuel for the city, rebels said.
"Four (fuel) tanks were totally destroyed and huge fire erupted which spread now to the other four. We cannot extinguish it because we do not have the right tools," rebel spokesman Ahmed Hassan told Reuters new agency.
"Now the city will face a major problem. Those were the only sources of fuel for the city. These tanks could have kept the city for three months with enough fuel."
Related Internet Links
The BBC is not responsible for the content of external sites.