The festive gunfire of Benghazi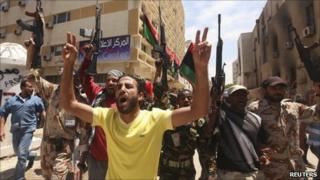 Can gunfire be nonchalant? Every evening, around dusk, the shooting starts here in Benghazi - a casual chorus of festive machine gunfire aimed, for the most part, at the sky.
It seems a fitting soundtrack for the unofficial capital of Libya's stuttering revolution.
One night, a handful of boys took playful, wobbly aim at the lagoon outside our hotel.
On another occasion, a dozen huge explosions turned out to be dynamite, thrown for fun into the same placid patch of water.
A careless mistake
Then there was the car bomb.
At first it seemed to imply the start of an ugly new campaign by pro-Gaddafi forces, which were pushed out of this port city back in February, and prevented from retaking it only by Nato's aerial intervention.
But the local authorities quickly revealed that the bomb was simply a careless mistake.
Someone had accidentally left fused dynamite in the boot of their car while they went shopping - as one does - and it had overheated.
I've just arrived in Benghazi to report on the fate of the military stalemate in the east of the country, the birth pains of the new transitional government here, the gruelling siege of Misrata further up the coast towards Tripoli, and to assess the prospects of a sudden, decisive shift along the frontlines.
I'll be blogging about what I find in the coming days, but wanted to give you an initial flavour of life in this famous city, which sits on a dusty coastal plain just below a green, almost Tuscan, range of low hills.
Last night I walked along the promenade beside the commercial port, from where tugboats packed with weapons set off to resupply forces inside Misrata, and where a rusting submarine leans against the harbour wall.
The beach front was packed with stalls, selling cheap souvenirs of the revolution - flags, badges, stickers - and with cheerful crowds listening to speeches, and manning an eclectic collection of tents housing various clubs and associations, each with its own particular take on Libya's unfinished revolution.
I saw almost no women - "they're kept apart for their safety," a local explained.