Morgan Tsvangirai: Zimbabwe elections likely in 2012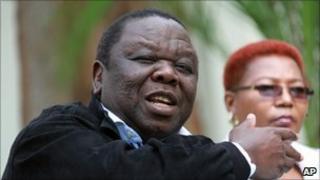 Zimbabwe will not hold elections this year, but they are likely to take place in 2012, Prime Minister Morgan Tsvangirai has said.
He joined a unity government with President Robert Mugabe's party two years ago after disputed polls in 2008.
Mr Mugabe has been pushing for polls this year, but rights activists have been worried about reports of increased political harassment of his opponents.
The prime minister said he was confident they could be free and fair.
Mr Tsvangirai said that the Southern Africa Development Community (Sadc), the regional body which negotiated the power-sharing agreement, has agreed there should be a "road map" for the presidential and parliamentary elections.
"It is now evident that there is no election this year - the election will be conducted probably within the next 12 months given the fact that are certain bench marks that have to be fulfilled," Mr Tsvangirai said in the South Africa town of Cape Town, which is hosting a meeting of the World Economic Forum.
These included the writing of a new constitution, holding a referendum on the new document and agreeing to a date for the polls, he said.
He added that the road map would ensure the outcome would be respected, unlike the recent poll dispute in Ivory Coast.
"There is no basis for a repeat of what happened in the Ivory Coast. When people have lost an election, they must accept," Reuters news agency quotes him as saying.
'Frustrating experience'
The BBC's Brian Hungwe in Zimbabwe's capital, Harare, says there have been reports of increased political violence in the countryside.
He says Mr Tsvangirai's Movement for Democratic Change has been fighting hard for the road map to be agreed with Mr Mugabe's Zanu-PF party.
However, some civil society groups are sceptical that Sadc will be able to ensure a level playing field in time for the polls.
"What Tsvangirai should do and what Zimbabweans need to do in general is insist that the military be professional and stop doing work for Zanu-PF," Pedzisai Ruhanya of the Crisis in Zimbabwe Coaltion told the BBC.
Mr Tsvangirai told a meeting in Cape Town that agreeing to share power with Mr Mugabe was the "most frustrating experience" of his life.
"The next election must produce a legitimate government so that we don't have the losers trying to negotiate their way back into power through some form of an arrangement or some form of a coalition like the government of national unity," he is quoted by AFP news agency as saying.