Millions in Laurent Gbagbo assets frozen in Switzerland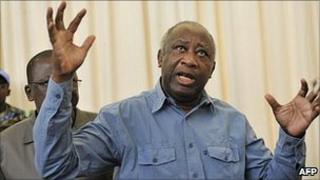 Authorities in Switzerland say they have frozen assets worth 70m Swiss francs (£49m; $81m) linked to former Ivory Coast President Laurent Gbagbo.
The government ordered the freeze in January, after Mr Gbagbo refused to cede power despite losing an election.
Ivory Coast must prove the assets were gained criminally if it hopes to reclaim them.
Ivory Coast's Constitutional Council has ratified the election victory of Mr Gbagbo's rival, Alassane Ouattara.
The top court sparked a four-month stand-off in December by overturning the electoral commission's finding that Mr Ouattara had won.
The council, headed by Gbagbo ally Paul Yao N'Dre, annulled thousands of votes cast in favour of Mr Ouattara in rebel-held areas of the north, where Mr Gbagbo had alleged fraud.
The UN, which helped organise the elections, says it found no evidence of widespread fraud.
Mr N'Dre says he now accepts Mr Ouattara's victory.
He met Ivory Coast's new leader last month but refused to accept blame for the crisis, saying all sides shared responsibility.
Mr Gbagbo was arrested in April after a four-month stand-off following last November's elections.
Mr Ouattara's government says the former president is being investigated for alleged human rights abuses committed while he was in power.
Some 3,000 people are believed to have been killed during the unrest.
North African assets
Switzerland said earlier this week it had frozen assets worth SFr830m linked to regimes recently ousted from power North Africa.
Of that, the largest proportion - SFr 410m - was linked to former Egyptian President Hosni Mubarak and his circle, the Swiss foreign minister said.
Another SFr 360m was believed to belong to Col Muammar Gaddafi's regime in Libya.
A further SFr 60m was tied to former Tunisian leader Zine al-Abidine Ben Ali and his associates.