Tripoli witness: Mourning, protests and opposition cats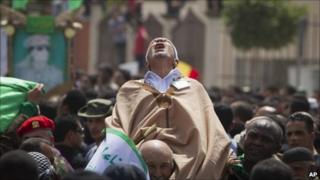 A Tripoli resident - who does not want his name to be used for security reasons - describes life over the last week in the Libyan capital, where there are tales of mob violence, looting and cats sporting opposition colours.
The killings of one of Colonel Muammar Gaddafi's son and al-Qaeda's leader have been the subjects of many a social or family gathering over the last week, but only after everyone complains about the continuing fuel crisis.
Some here see Osama Bin Laden's demise as a message from the Americans that "now we are free to come after you [Col Gaddafi]".
The government announced that Saif al-Arab Gaddafi and three of the colonel's grandchildren were killed during a Nato air strike on one of the ruling family's homes.
The initial reaction from those who support the regime was obvious to see on state television.
Those in the capital with a lesser opinion of the ruling family reacted in stages.
Conspiracy theories
At first they were stunned.
Then they were sorry because that particular son was regarded as a figure who was far removed from the regime and someone they knew little about.
You will often hear people say these days that he was "God-fearing, conservative and rumoured to have been opposed to his family's handling of the conflict… and his eldest brother Muhammad is the same".
The third and final stage was scepticism.
"They're lying. None of them died, the regime only wants to gain public sympathy," sceptics now argue.
Minor details like the lack of images showing the faces of those who were buried, or doubts that the entire family would casually hold a gathering under one roof in these uncertain times have fuelled that theory.
We have heard officials here "apologising" for the attacks on some European embassies by the angry mobs who were protesting against the coalition strike that killed Saif al-Arab.
However the accounts of witnesses who gathered close by when the havoc broke out before dawn on Monday tell a different story.
'Stolen chairs'
There are numerous accounts of the brigade forces and armed men in civilian clothes storming the embassy grounds and setting the buildings on fire as bus- and car-loads of people arrived to loot to their hearts' desire.
"I saw one woman running out with a baby pram and a children's plastic swing," one witness said.
Others saw everything from refrigerators being hauled out, to bottles of alcohol being fought over.
"The brigade forces took some [bottles] as well and put them in the back of their trucks," another witness said.
"I even saw them taking plastic chairs."
However they also say they saw public security police teams looking uneasy and trying to control the chaos outside and inside these diplomatic premises.
"They were the only official apparatus present that were not participating in the looting," I was told.
There does not appear to be any end in sight to the fuel shortage that started to hit Tripoli 14 days ago.
You have two main options to refuel: Spend an average of three nights of your life in a queue or get someone else who has connections with the station to queue for you.
You pay him a 50 dinar ($42, £25) fee for the rationed amount, which officially sells for five dinars, and he promises to get it for you within 24hrs.
A third, less advisable option, is to buy a 20-litre container of fuel from the black market, only to discover it is mixed with water when your engine starts to smoke.
And after witnessing, on several occasions, military guards firing their Kalashnikovs into the air to disperse a fuming mob less than 10m metres from the rare working fuel pump, I feel compelled to suggest that all petrol stations put up a big sign saying: "WARNING. Approach at your own peril, station may explode."
Gaddafi tent burnt
Over the last seven days my friends have told me of several incidents they have witnessed or been told about.
It seems immediately after an intense Nato bombardment, there were small anti-government protests in different neighbourhoods in the capital.
There was also the burning of a pro-regime Bedouin tent in the Hadba district; a few of these tents, symbolically associated with Col Gaddafi, have been set up in the capital in recent months.
Even animals have been drawn into this conflict.
There have been several sightings of stray cats parading around with the opposition flag painted on their bodies.
Some, I am told, were unsuccessfully chased and shot at by angry security agents and secret police who work in the Souk al-Joumha and Janzour areas where they have been seen.
Unanswered questions
A week ago, there was a confrontation between Souk al-Joumha residents and security forces.
A friend of mine who was in a small grocer's shop in another area that afternoon overheard an exchange between an elderly woman talking to her son over the phone.
He phoned and told her not to come home and to go and stay at a relative's place nearby.
"Why? What's going on?" she cried out in a panic.
Her son told her there was a lot of shooting and that it was not safe to return.
When she hung up, the owner of the shop asked her what was wrong and if he could help and she told the story.
It was not clear what the clashes were about as it is not a detail that can be relayed over the phone these days.
Unanswered questions over "minor" incidents like this and the greater news events of the week are what is on the minds of the people in this capital these days.
This article was written by BBC Tripoli correspondent Rana Jawad, whose identity was disguised for her safety. You can read her account of reporting undercover from Tripoli here.