Egypt ex-minister Habib al-Adly jailed for 12 years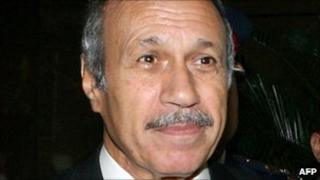 Egyptian former Interior Minister Habib al-Adly has been sentenced to 12 years in jail on charges of money-laundering and profiteering.
As head of the country's security services, Adly was a key part of ex-President Hosni Mubarak's regime.
Mr Mubarak was forced out of power in February after a popular uprising.
This is the first trial of an official from his regime. Adly faces separate charges of ordering troops to fire on demonstrators.
He may face the death penalty if convicted of this charge.
"The court has ruled that Habib al-Adly will be punished with seven years in prison for profiteering," said Judge al-Mohamadi al-Qunsuwa in the courthouse on the outskirts of Cairo on Thursday.
On the money-laundering charge, Adly was sentenced to five years.
The former minister was also fined nearly 15m Egyptian pounds ($2.5m; £1.5m).
Adly, who was present in the courtroom, remained silent and made no comment on the verdict, Egypt's Mena news agency reports.
It was not immediately clear if he planned to appeal.
'Greatest test'
This verdict may help convince pro-democracy activists that the interim military government is serious about pursuing high-ranking officials from the old government, the BBC's Jonathan Head in Cairo reports.
Many Egyptians have been closely watching the fate of Adly, because of the conduct of the police force during the uprisings.
More than 20 Mubarak-era ministers and businessmen linked to the regime have been detained since Mr Mubarak's departure.
But the government's greatest test is how it handles Mr Mubarak's case, our correspondent says.
The former president - who was ousted on 11 February - is under investigation on suspicion of involvement in the killings of anti-regime protesters.
However, Mr Mubarak remains in a hospital in the Red Sea resort of Sharm el-Sheikh, despite a directive from the new government that he too should be moved to prison.
At least 846 civilians were killed during 18 days of street protests. Most were shot in the head and chest.