Ivory Coast profile - Overview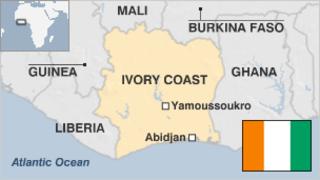 Once hailed as a model of stability, during the first decade of the twenty-first century Ivory Coast slipped into the kind of internal strife that has plagued so many African countries.
An armed rebellion in 2002 split the nation in two. Since then, peace deals have alternated with renewed violence as the country has slowly edged its way towards a political resolution of the conflict.
For more than three decades after independence under the leadership of its first president, Felix Houphouet-Boigny, Ivory Coast was conspicuous for its religious and ethnic harmony and its well-developed economy.
All this ended when the late Robert Guei led a coup which toppled Felix Houphouet-Boigny's successor, Henri Bedie, in 1999.
Mr Bedie fled, but not before planting the seeds of ethnic discord by trying to stir up xenophobia against Muslim northerners, including his main rival, Alassane Ouattara.
This theme was also adopted by Mr Guei, who had Alassane Ouattara banned from the presidential election in 2000 because of his foreign parentage, and by the only serious contender allowed to run against Mr Guei, Laurent Gbagbo.
When Mr Gbagbo replaced Robert Guei after he was deposed in a popular uprising in 2000, violence replaced xenophobia. Scores of Mr Ouattara's supporters were killed after their leader called for new elections.
In September 2002 a troop mutiny escalated into a full-scale rebellion, voicing the ongoing discontent of northern Muslims who felt they were being discriminated against in Ivorian politics. Thousands were killed in the conflict.
Although most of the fighting ended in 2004, Ivory Coast remained tense and divided. French and UN peacekeepers patrolled the buffer zone which separated the north, held by rebels known as the New Forces, and the government-controlled south.
After repeated delays, elections aimed at ending the conflict were finally held in October 2010. But the vote ushered in more unrest when the incumbent, Laurent Gbagbo, refused to concede victory to the internationally recognised winner, Alassane Ouattara.
The ensuing four-month stand-off was only ended when Mr Ouattara's forces overran the south of the country, finally capturing Mr Gbagbo and declaring him deposed. In November 2011, Mr Gbagbo was transferred to The Hague to stand trial at the International Criminal Court on charges of crimes against humanity.
Officials have blamed several security incidents since then on disgruntled supporters of Mr Gbagbo.
for more on Ivory Coast see: