South Africa killing of lesbian Nogwaza 'a hate crime'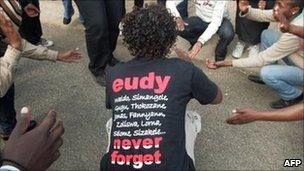 The brutal killing of a South African lesbian activist has been condemned as a hate crime by Human Rights Watch.
The US-based group has urged the police to do more to find those responsible for the recent murder and rape of Noxolo Nogwaza.
She was stoned and stabbed on 24 April after a row in a bar in KwaThema township, east of Johannesburg.
Activists say gay South African women are targeted for what some call "corrective rape".
Unlike in many African countries, homosexual acts are legal in South Africa and the constitution outlaws discrimination based on sexual orientation.
But activists say gay and lesbian people are often attacked in townships.
"Nogwaza's death is the latest in a long series of sadistic crimes against lesbians, gay men, and transgender people in South Africa," said Human Rights Watch researcher Dipika Nath.
South African police ministry spokesman Zweli Mnisi says that the police prioritise violence against women and children but do not look at sexual orientation when carrying out their investigations.
"To us, murder is murder, whether somebody is Zulu, English, male or female - we don't see colour, we don't see gender," he told the BBC's Focus on Africa programme.
Prayers were held for Ms Nogwaza outside her home on Saturday and some activists report hearing threatening comments from young men in the crowd.
They fear some of the killers may have mingled with the mourners.
In 2008, female footballer and gay rights activist Eudy Simelane was also killed in KwaThema, some 80km (50 miles) east of Johannesburg.
Two people were given long prison terms for her murder and rape, although prosecutors denied that her sexuality had been a motive.
Related Internet Links
The BBC is not responsible for the content of external sites.