Ex-Ivory Coast leader Laurent Gbagbo 'in good health'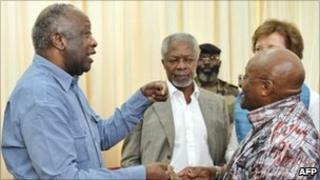 Ivory Coast's former strongman Laurent Gbagbo has made his first public appearance since he was arrested three weeks ago.
He met a team of mediators including former UN Secretary General Kofi Annan and South African Archbishop Desmond Tutu in the northern town of Korhogo.
The BBC's John James says Mr Gbagbo looked in good health and joked with Archbishop Tutu.
His arrest ended a stand-off when he refused to accept defeat at the polls.
More than 3,000 are believed to have been killed since the November election, before Alassane Ouattara took power when his forces captured Mr Gbagbo in the presidential residence in the main city, Abidjan.
He is being guarded by UN peacekeepers and former rebel forces who back Mr Ouattara in the presidential villa in Korhogo, which our correspondent describes as small but luxurious.
Mr Gbagbo smiled in front of the cameras, wearing a creased blue shirt and with slightly longer hair than usual, our correspondent says.
Strong message
Mr Annan said he had encouraged Mr Gbagbo to address the Ivorian people "sooner rather than later" to call for reconciliation and said that the former president had not given any indication that he contested the position of Mr Ouattara.
The former UN secretary general said what had happened in Ivory Coast sent a strong message to leaders in Africa and the rest of the world about what would happen to them if they were tempted to interfere with the democratic process.
"We were very thrilled that the former president looked forward to the country returning to normalcy," said Archbishop Tutu.
"This is what we are urging all parties - that the country should become the country it was - peaceful, with security for everyone," he said, laughing that Mr Gbagbo had asked for a Bible.
Former Irish President Mary Robinson was the third member of the delegation from the peacemaking group known as the Elders to meet Mr Gbagbo in Korhogo.
Police hearings are due to start this week into crimes committed during Mr Gbagbo's presidency, while a truth and reconciliation commission has also been announced.
It is to be headed by former Prime Minister Charles Konan Banny, Mr Ouattara said on Sunday.