Bin Laden death reminds Kenya of bombing horrors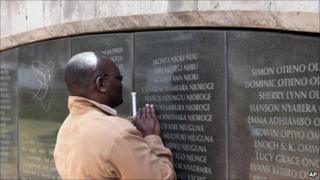 When Charles Muriuki heard that Osama Bin Laden had been killed, he rushed to the memorial park which now stands on the site of what used to be the US embassy in the Kenyan capital, Nairobi.
His mother was one of the more than 200 people killed when al-Qaeda operatives blew up the US mission on 7 August 1998. Like her, most of the victims were Kenyan.
A similar attack took place just minutes later in neighbouring Tanzania, where the embassy in Dar es Salaam was also targeted and 11 people lost their lives.
Mr Muriuki's mother, Mary Wanjiru Muriuki, was at the Co-operative Bank, next door to the former US embassy building which was destroyed by the massive bomb.
"I had to come here and comfort her memory and tell her not to worry - everything has been taken care of, justice has prevailed," he told the BBC.
But Mr Muriuki was one of just a handful of people who had gone to pay their respects at the memorial - a granite slab engraved with the victims' names.
He savoured his "victorious" moment in solitude, the small crowd at the park were oblivious to him and only took note of him when journalists interviewed him, with curious, but brief stares.
Caught in the middle
The reaction has been largely subdued - there have been no jubilant crowds like those seen outside the White House in Washington, and in New York.
Kenyans are getting on with their lives, although they are in the main relieved to hear about the death of the militant leader.
Most see this as a victory for the Americans.
Some also reflect with bitterness that Kenyans were not specifically targeted by al-Qaeda - those killed were bystanders caught up a battle between a superpower and the Islamist militant network.
Local TV and radio stations have carried on with their scheduled programming, relegating the death of the al-Qaeda leader to their hourly bulletins or rebroadcasting the coverage being aired by the international media houses.
But Kenyan leaders have welcomed the news.
President Mwai Kibaki described Bin Laden's killing as an act of justice for those Kenyans who lost their lives and suffered injuries in al-Qaeda's first attack on US interests.
"I commend all those people behind the successful tracking down and killing of Osama Bin Laden," he said.
High alert
Douglas Sidialo lost his sight following the 1998 attack and now chairs an association for victims of the attack.
He welcomed Bin Laden's death, describing it as "a reason for celebration".
But he was quick to point out that it would have been better if al-Qaeda's leader had been captured alive to face trial.
Reaction on local websites is mostly positive, with US President Barack Obama receiving plaudits for bringing down the world's most wanted man.
Interestingly, the contentious subject of compensation for the Kenya victims of the 1998 bombing is being raised again.
Kenyans are also well aware that the death of the al-Qaeda leader does not end the threat of another terror attack in the country.
Prime Minister Raila Odinga welcomed Bin Laden's death but noted that the influence of al-Qaeda had spread to Kenya's neighbour Somalia, where foreign insurgents are fighting alongside militants opposed to the UN-backed government.
"Osama's death can only be positive for Kenya, but we need to have a stable government in Somalia. The loss of [al-Qaeda's] leader may first upset the movement but then it will re-group and continue," Mr Odinga said.
The country went on high alert just over a week ago after Somali militant group al-Shabab, which has links to al-Qaeda and which last year staged an attack in Uganda killing 76 people, threatened to attack public areas and places of worship over the Easter period.
The porous border between Kenya and Somalia means the threat of an attack from insurgents affiliated to al-Qaeda operating in Somalia can never be discounted.
The death of Bin Laden will not see the disappearance of the ubiquitous security checks in front of hotels, office blocks, shopping centres and recreation facilities.
Indeed, security forces have been put on ever higher alert in case of revenge attacks.