Uganda: Besigye vows protests will continue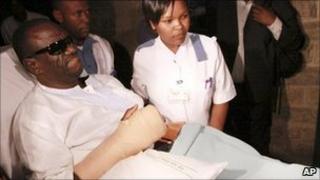 Uganda's opposition leader has vowed to continue peaceful protests in the country, days after an attack that left him in hospital.
Kizza Besigye's car was attacked during a demonstration in Kampala on Thursday and he was doused in pepper spray.
The UN meanwhile urged Ugandan authorities to stop using "excessive force" against peaceful protesters.
Demonstrations over the last three weeks have left eight people dead and more than 250 others wounded.
At least two people were killed and 90 injured in Kampala on Friday after police fired bullets and tear gas at crowds protesting against Mr Besigye's arrest.
'National crisis'
Mr Besigye, who has flown to Kenya for medical treatment, told a local TV station there: "I know that my life is in danger, without any doubt."
"The [Ugandan] population is largely marginalised and is now protesting their marginalisation," he added from hospital in the Kenyan capital, Nairobi.
He is being treated for damage to his eyes from chemicals in the pepper spray and soft tissue injuries.
Mr Besigye said he would continue mobilising what he described as "peaceful demonstrations" and walk-to-work protests.
Ugandan President Yoweri Museveni said that Mr Besigye had provoked his assailants by attacking first, a charge he denies.
UN human rights chief Navi Pillay said on Sunday that the way Mr Besigye had been treated during his latest arrest was "shocking".
After being attacked with pepper spray, he was bundled into the back of a truck and arrested, before being released for medical treatment.
She said in a statement: "The Ugandan authorities must realise that their own actions have been the major factor in turning what were originally peaceful protests about escalating food and fuel prices into a national crisis."
Among the eight people killed in the recent unrest, she added, was a two-year-old girl allegedly shot by a member of the security forces.
Citing the Uganda Human Rights Commission, Ms Pillay said that tear gas had also been fired into schools, health centres and homes.
There have been a number of clashes between protesters and the police and arrests of opposition politicians during recent walk-to-work protests staged over rising fuel and food prices.
Mr Besigye has lost three disputed elections to President Museveni - the most recent in February.
According to the BBC's Will Ross, in Kampala, the two men have not spoken to each other for 10 years.