Libya: Gaddafi offers talks with Nato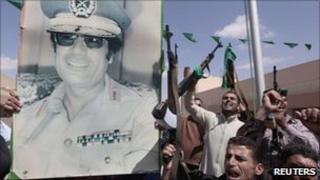 Libyan leader Col Muammar Gaddafi has called for a ceasefire and talks with Nato to stop the coalition's air strikes against his country.
The Western alliance is acting under a UN mandate to protect civilians amid an uprising against Col Gaddafi's rule.
Previous Libyan offers of ceasefires have either not been implemented or have been quickly broken.
The rebel Transitional National Council rejected Col Gaddafi's offer, saying the time for compromise had passed.
"The people of Libya cannot possibly envisage or accept a future Libya in which Gaddafi's regime plays any role," the council's vice-chairman, Abdul Hafez Ghoga, told reporters in the eastern city of Benghazi.
"Gaddafi's regime has lost all credibility," he added.
A Nato official also dismissed Col Gaddafi's ceasefire call, telling the Reuters news agency: "We need to see actions, not words."
"Nato will continue operations until all attacks and threats against civilians have ceased, until all of Gaddafi's forces have returned to base and until there is a full, safe and unhindered humanitarian access to all people in need of assistance," the official added.
'Door open'
In his televised speech, Col Gaddafi said he would not be forced from Libya - a key condition of the rebels.
"We were the first to welcome a ceasefire and we were the first to accept a ceasefire... but the Crusader Nato attack has not stopped," he said. "The door to peace is open."
"You are the aggressors. We will negotiate with you. Come, France, Italy, UK, America, we will negotiate with you. Why are you attacking us?"
He said there could be no preconditions, such as his own surrender and exile, as rebels and some Nato countries have demanded.
The US and its allies have reportedly tried to sound out countries which might be willing to offer Col Gaddafi asylum.
"We will not surrender, but I call on you to negotiate... Between Libyans, we can solve our problems without being attacked, so pull back your fleets and your planes," he said.
The rebels battling his forces in the east, and in the western city of Misrata, were "terrorists who are not from Libya, but from Algeria, Egypt, Tunisia and Afghanistan," he added.
Libyan state television later implied that Nato strikes on a government complex in the capital, Tripoli, had targeted Col Gaddafi while he was speaking. There was no confirmation from Nato.
'Total fire'
Meanwhile, Libya said it will not allow any more sea deliveries to the besieged city of Misrata.
Government spokesman Moussa Ibrahim also said rebels in the city would be given four days to lay down their arms in return for an amnesty.
If they continued to fight they would face "total fire", he said.
His comments came after Nato said Col Gaddafi's forces had been trying to lay mines off Misrata. A Nato commander said the mines were being disposed of.
The port is a lifeline for rebels and citizens in the city, allowing them to receive supplies of food and medicine, and enabling the evacuation of the wounded and of stranded migrant workers.
Mr Ibrahim said rebels in Misrata were receiving shipments of weapons throug
h the port and that any attempt to enter the port would be attacked.
Aid supplies should come overland, he added.
The BBC's Ian Pannell reports from the Libyan capital, Tripoli, that despite claims that loyalist forces are now in control of almost all of Misrata, it seems that the government is on the back foot, under pressure from Nato and desperate to reverse recent losses.