Libya crisis: Rebels vow not to use landmines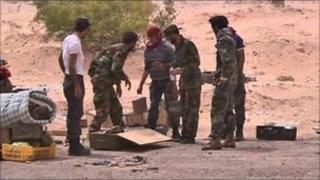 Rebel leaders in Libya have pledged to stop using landmines in their fight against Col Muammar Gaddafi.
The BBC filmed rebels planting anti-vehicle mines near the key town of Ajdabiya earlier this month.
Human Rights Watch (HRW) researchers said the mines had been laid despite rebel assurances they would not be use the weapons.
HRW has also gathered evidence of use of mines and cluster munitions by Col Gaddafi's forces.
On Friday, Nato accused pro-Gaddafi troops of "completely ignoring international law" by laying anti-ship mines outside the harbour in the city of Misrata.
The devices planted by rebels were identified as PRB-M3 anti-tank mines produced in Belgium during the 1970s and 1980s.
Tens of thousands of the mines, which are cased in plastic and contain almost 7kg (15lb) of explosives, have been found stockpiled in depots in the rebel stronghold of Benghazi in eastern Libya.
Libya's opposition National Transitional Council (NTC) has now issued a formal pledge not to use landmines and to destroy all mines held in rebel stockpiles.
A communique signed by the Abdulhafeeth Gogha, vice chairman of the NTC, and seen by the BBC promises that "no forces under the command and control of the Libyan National Transitional Council will use anti-personnel or anti-vehicle landmines".
Treaty
It says forces under the command of the NTC "shall be requested to destroy all landmines in their possession" and to "co-operate in the provision of mine clearance, risk education, and victim assistance".
The communique also says that any future Libyan government should sign up to the 1997 Ottawa Treaty, that bans the production, use and stockpiling of anti-personnel mines.
HRW says the use of PRB-M3 mines and the manner in which they have been laid in Libya make them particularly dangerous to non-combatants.
Because they are made of plastic, it is hard for de-mining teams to detect them. Areas mined by the rebels appear not to have been marked or mapped, making any future clearance efforts more difficult.
Variants of the weapon held in rebel stockpiles can also be booby-trapped or fitted with a sensitive fuse.
Although the devices are designed to be triggered by the weight of a vehicle, the pressure caused by stepping on a device fitted with a sensitive fuse can be enough to cause an explosion.
Campaigners say this, in effect, makes the weapon an anti-personnel landmine.
"The decision by Libya's opposition forces to reject landmines is a positive step because mines have killed and maimed so many civilians in conflicts around the world," said Steve Goose, director of Human Rights Watch's Arms Division.
"We urge the National Transitional Council to implement its decision right away, and we call on the Libyan government of Muammar Gaddafi to make the same commitment on behalf of civilians in war."
Rebel commanders say the landmines filmed by the BBC near Ajdabiya were laid without authorisation. They have promised to discipline the fighters involved.
"We hope the rebel authorities stick to their promises in the communique and immediately stop using landmines, remove all mines that were placed, and destroy the mines in their possession," said Steve Goose.