Morocco probes deadly Marrakesh cafe blast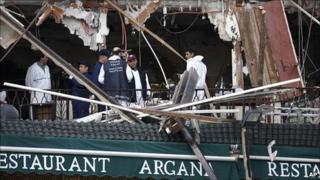 Morocco has launched an investigation into a bomb attack on a cafe in Marrakesh that left 15 people dead including a number of foreigners.
The French Interior Minister said at least six of the dead were French.
Reports say one Israeli, two Canadians, one Dutch and two Moroccan nationals were also killed. More than 20 others were hurt in the incident.
A Marrakesh official said a suicide bomber could have caused the blast in Djemaa el-Fna square.
No group has so far said it carried out the attack in the major tourist spot.
The UK Foreign Office is investigating reports that one of the victims was British.
The last serious attack in Morocco was in Casablanca in 2003, when 45 people - including suicide bombers - were killed.
'Heinous and cruel'
As investigations continued on Friday, details of the nationalities of those killed began to emerge.
The Moroccan Interior Ministry issued a statement saying seven of the 15 dead had so far been identified.
The state news agency MAP had earlier put the death toll at 16.
In Israel, reports said an Israeli woman and her husband, thought to be Moroccan, had been killed in the blast.
The couple, who lived in Shanghai, China, were said to be visiting her father for the Jewish festival of Passover.
One Dutch national was also reported to have died and two others were seriously injured, the Netherlands foreign ministry said. They were part of a Dutch tour group.
French officials added that seven French nationals were injured in the blast.
President Nicolas Sarkozy branded the attack "heinous, cruel and cowardly", his office said.
Mr Sarkozy spoke by telephone to King Mohammed VI, who ordered a "speedy and transparent inquiry" when he chaired a council of ministers at the royal palace in Fez.
Paris has dispatched forensic investigators and anti-terrorist officers to help the Moroccan enquiry, the news agency AFP reports.
Moroccan Interior Minister Taib Cherkaoui would not confirm reports of a suicide bombing but added: "I can assure you that we continue to fight terrorism with all legal means. The criminals implicated in this act will be brought to justice."
Moroccan Communications Minister Khalid Naciri told AFP news agency "this was a terrorist act" and that the country would react "with diligence".
"Morocco is confronted by the same threats as in May 2003," he said.
Police said checkpoints had been set up at the entrances to Morocco's main cities. French intelligence and counter-terrorism experts are to travel to the former French colony on Friday, officials in Paris said.
Reforms pledged
Much of the facade from the two-storey cafe was blown away and passers-by dragged bodies from the rubble and tried to put out flames with fire extinguishers, witnesses said.
Morocco has remained relatively peaceful amid recent unrest in north Africa and the Arab world, but the king has pledged constitutional reforms following several largely peaceful protests over the past two months.
The UK Foreign Office said consular staff had been sent to offer assistance to any British nationals.
It said it was also aware of reports in French newspaper Le Figaro that one of the dead was British but could not verify the information.
Djemaa el-Fna square is a Unesco World Heritage site and is popular with foreign tourists, particularly Europeans.