Ibrahim Coulibaly: Ivory Coast's serial coup-plotter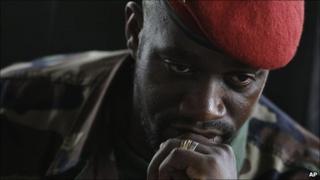 The death of one of Ivory Coast's most charismatic commanders and serial coup-plotters, Ibrahim Coulibaly, eliminates one of the main threats to the new government.
But the offensive against Mr Coulibaly, nicknamed "IB" and recently self-promoted to a general, has shocked many who credit him with playing a key role in bringing the new President, Alassane Ouattara, to power.
The Ivorian ministry of defence has confirmed his death, along with six fellow fighters, after an offensive against his headquarters in the PK-18 district on the northern edge of Abidjan.
The government said he had missed three separate meetings to discuss disarming his forces after a personal appeal on state television from President Ouattara, who he had once served as a bodyguard.
"General IB" was one of West Africa's wildest characters, repeatedly hatching plots against Ivory Coast's governments.
Conspiracies
He first came to prominence as one of the group of young soldiers behind the country's first coup d'etat in December 1999, dubbed the "Christmas Eve coup", which installed the head of army, General Robert Guei, as president.
But in September 2000 General Guei accused IB of trying to assassinate him in the "conspiracy of the white horse" - the horse was allegedly killed in an attack on his home.
IB was arrested but then named defence attache at Ivory Coast's embassy in Canada, though he refused to take up the post.
General Guei lost elections in October 2000 and was replaced as president by Laurent Gbagbo - the man who refused to accept his electoral defeat in last November's polls.
Three months later IB's name was again in the headlines when he was accused of leading an attack on the new government in what became known as the "conspiracy of the black Mercedes" - a reference to the car the assailants were allegedly travelling in.
In September 2002, he was one of the key commanders who attempted to overthrow the government, triggering the Ivorian civil war.
The New Forces rebels, as they became known, did not gain control of the main city Abidjan, but did take over the northern half of the country, which they hold to this day.
But IB then fell out with his fellow rebel commanders, particularly the political head of the New Forces, Guillaume Soro, who is now the prime minister and minister of defence in the Ouattara government.
IB then hatched another unsuccessful plot in 2003 to assassinate President Gbagbo.
In 2008 a French court in Paris convicted him in his absence for that plot for "heading or organising a group motivated by a mercenary purpose" and sentenced him to four years in prison, but he was never captured.
Bogeyman
On 29 June 2007, after Mr Soro had signed peace accords with his former enemy Mr Gbagbo, rockets were fired at his plane in the rebel capital, Bouake, killing four.
Mr Soro escaped unharmed - and IB was suspected of being behind the attack, although the formal investigations have never produced any results.
The 2007 peace accord prepared the way for presidential elections, for which IB announced his candidature, although his support base was largely limited to members of his small ethnic group, the Kouyaka.
But from exile in Togo, IB could not resist another coup attempt - planning a coup called "Operation Christmas in Abidjan", which was revealed in a series of videos leaked on to YouTube and nipped in the bud by the security forces.
With a growing number of enemies, arrest warrants, and exactions against his supporters, IB laid low - and abandoned his presidential bid.
He continued to play a major role in the Ivorian press as the bogeyman repeatedly said to be plotting another coup, although it was never clear if these rumours had any foundation, or if they were just attempts to increase newspaper sales.
So, when a mysterious force called the "Invisible Commandos" emerged in January and gradually started gaining control over pro-Ouattara districts of northern Abidjan, IB's name quickly appeared in the press.
To many people's surprise, it did turn out to be him, although it is still not clear if he was behind the force from the very beginning.
Well before the main group of pro-Ouattara forces - made up of the New Forces, now called the Republican Forces of Ivory Coast - pushed south, he had already shown the weakness of the official state army.
But when the battle for Abidjan was over and former President Gbagbo arrested, IB seemed reluctant to disarm, while at the same time his forces were accused of running a looting racket to smuggle stolen cars.
There are unlikely to be any further trouble from pro-IB elements; many fighters in the Invisible Commandos found his posturing distasteful and had already disarmed.
Nevertheless, it highlights the possible security threats that could be posed by the coalition of ex-rebel commanders that are not directly under President Ouattara's authority, but which brought him to power.
While warlords rarely die of old age and few, barring newspaper editors, may mourn IB's passing, his death shows the Kalashnikovs have not yet been laid to rest in Abidjan and after 50 years of independence a living can still be made from gunpowder plots and scheming.