Eyewitnesses: Marrakesh blast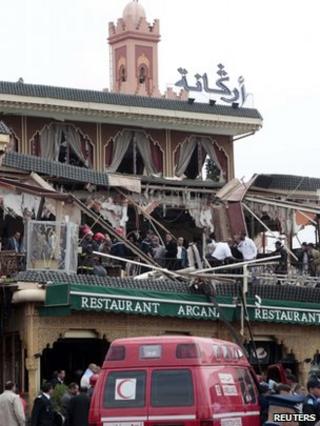 Witnesses in Marrakesh have been describing a vast explosion in central Marrakesh which has ripped apart a cafe, killing at least 15 people.
Djemaa el-Fna square, with its snake charmers, musicians, story tellers and traders, is a prime tourist destination and a Unesco world heritage site, and the Argana is one of its most popular cafes.
The blast hit during lunchtime, when the square was packed with people eating at its makeshift food stalls and upmarket restaurants.
"There was a huge bang, and lots of smoke went up, there was debris raining down from the sky," said Briton Andy Birnie, who was on his honeymoon in Morocco.
He had just walked into the square when the explosion happened but was protected from the impact by the stalls.
"Hundreds of people were running in panic, some towards the cafe, some away from the square. The whole front of the cafe is blown away," Mr Birnie told the Associated Press.
Alexandre Carvalho, a 34 year-old tourist from Portugal, said he saw people "in a panic running towards the area with fire extinguishers".
"I believe the injured were mostly tourists, judging by what they were wearing," he said.
Hugo Somersham-Jones, a British man who owns a hotel in Marrakesh, said he was in his home nearby when he heard a noise which sounded like a bomb.
"The whole first floor of this very popular tourist cafe has been totally flattened," he told the BBC.
"We saw a number of limp, lifeless bodies being picked up by brave waiters and no doubt members of the public as well. So it's a pretty chaotic scene.
"My manager saw a lady who had lost an arm.
"On the floor surrounding the cafe out on the street - not just the immediate area outside, but maybe 50m to 75m away - there were footmarks of red blood."
'Massive'
Officials at first said the blast had been caused by a gas canister, which in the absence of piped gas are used on all the stalls in the square.
But they soon pointed the finger at a "criminal act", with suggestions that a suicide bomber could have been to blame.
"Some witnesses said they saw a man carrying a bag entering the cafe before the blast occurred," one woman who declined to give her name told Reuters. She said the blast had been "massive".
Meanwhile there were fears for what the incident could mean for the future of Morocco, previously seen as a relatively peaceful country.
"You can't find a more emblematic target than Djemaa el-Fna square," a French restaurant owner told Reuters.
"With this attack and amid the worrying unrest in the region, tourism will hit the doldrums for some time."