Tripoli witness: Rioting, fighting and dying for fuel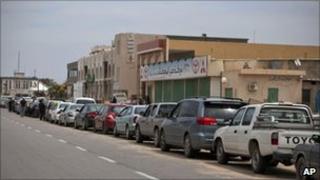 Tales of tension and gang-fights are common in Tripoli's long queues for fuel. One resident in the Libyan capital - who does not want his name to be used for security reasons - explains.
It has been an explosive week in Tripoli, both literally and figuratively.
Nato air strikes intensified after a quiet period.
Meanwhile, the fuel shortage, that state television channels deny exists, has hit an all-time high in the past eight days.
The shortage has not only lasted longer than people expected, but it has also sparked everything from mini-riots to gang fights and, incredibly, shootings as well.
State television announced that as of today - Thursday - we may only have fuel for the amount of 5 dinars ($4), no more, no less.
It has instructed stations to stamp car registration papers with the date of purchase because we can now only refuel every three days or more.
The only official explanation for the shortage has been that, while there is a surplus of petrol, some people are panic buying and others want everyone else to think there is a fuel shortage and are creating long queues to trigger chaos.
I have seen the longest queues at petrol stations that residents here have arguably ever witnessed.
Some will stretch and wind through several streets in residential areas, others are up to 2km long - at least the ones I have seen.
Friends will swear passionately that they have seen others that are much longer.
It is by all measures a sad and miserable sight. The experience of acquiring fuel is not only dismal, however - it can also be frightening, hazardous and lethal.
There are those whom we can call the coalition of the unwilling - a minority group in Tripoli that would rather not queue for days and nights for petrol.
They are patiently waiting for the fuel crisis to be somehow resolved. Others it would appear, have invested in bicycles.
But for the majority of the capital's population it is a different story.
Deadly Encounters
My friend successfully re-fuelled his car on Tuesday after three long days and nights in a queue at the petrol station in his area.
Resilience and planning are key.
He and his brother queued in shifts - they would alternate every three hours during the day and every five hours at night.
He, like many others in the queue, was desperate. His wife is pregnant and due any day now.
"I can't afford to be short on fuel in my situation," he explains.
At that petrol station and many others across the capital this week, fights have been breaking out sporadically between people.
This is the account according to one witness:
"One night a massive fight broke out. People took out knives and others phoned their relatives telling them to come help with the fight. It quickly spiralled out of control. At least three people were stabbed and we heard that one of them later died from his wounds. There have been similar incidents at many other stations."
Meanwhile, my friend who queued for three nights witnessed other incidents.
"On one day some cars tried to create a second queue. The brigade forces threatened them, shot into the air and shouted. Some left and others stayed.
"Twenty minutes later several cars arrived filled with civilians resembling criminals. They had chains and metal bars and immediately attacked the cars that had refused to leave.
"They smashed the windshields, mirrors and hoods and then got into their cars and disappeared as quickly as they appeared. The security forces just watched."
On Tuesday morning at a petrol station in Abu Nawas on Gergaresh road, "there was a drive-by shooting targeting the queue. Two people were killed. The cars were white Chevrolets", another friend tells me.
He did not see it happen but his friend witnessed it.
Yet another friend tells me, at the petrol station along Ghorji Road this week, "a riot broke out and security forces moved in immediately and tear-gassed the crowd".
"I was caught in traffic there because of the chaos and almost choked on the tear-gas," my friend said.
Dangerous dialling
The security crackdown in this city remains a vital tool for the regime in almost every aspect of daily life. It is an ever-present reminder of the conflict that has so far been staved off in the capital.
A chaotic scene and a mobile phone is probably one of the most hazardous combinations these days.
On Saturday night a friend witnessed a shooting on Sidi Masri road.
"A fuel tanker, parked on the side of the road, was illegally filling a few cars with petrol. There were a few brigade men securing the perimeter as this took place.
"A car carrying two men pulled over close by, on the opposite side. One man got out, crossed over and started video-recording with his phone. The security forces saw him and called out: "You! What are you doing?"
"He started running away and they shot him. We saw him fall. Immediately the car he came in drove off. There was a taxi near them - the driver was probably working for internal security because they told him to follow the car and he sped off in pursuit. The man who was shot was picked up and thrown into the brigade force truck. They drove off with him."
It is not surprising to hear of the dangers of being caught with a mobile phone in your hand that appears to be filming.
Another friend also witnessed a similar incident at a petrol station queue in broad daylight.
"A teenager standing in the queue at the station held up his mobile phone and appeared to be filming the chaos. I had a feeling it would not end well. I looked over to where security forces were standing and saw one of them watching him from a distance.
"The young man put his phone back in his pocket and turned away. As he did, the military man sprinted, slid over one car and grabbed him from the back and put a knife to his throat.
"He shouted at him 'Give me your phone! Where are you going?' Then he spoke into his hand-held radio and a civilian car pulled over. They threw him in and drove away."
In Tripoli these days, petrol is arguably not only a fuel for cars but also a fuel that is igniting the much repressed anger and, some would argue - confrontation - between residents of this sprawling city.
This article was written by BBC Tripoli correspondent Rana Jawad, whose identity was disguised for her safety. You can read her account of reporting undercover from Tripoli here.