Uganda's Kizza Besigye arrested for fourth time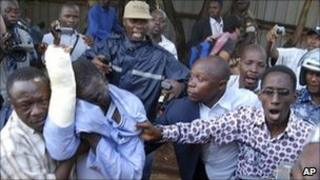 Uganda's opposition leader Kizza Besigye has been arrested for the fourth time this month during a "walk-to-work" protest over high prices.
Police had blocked his way, so he was in his car surrounded by supporters when officers smashed the windows, fired tear gas and dragged him from the car.
He was freed on bail on Wednesday after spending Easter in jail.
President Yoweri Museveni has warned the walking campaign is illegal.
But he has offered to meet the opposition leaders next week to discuss the rising cost of living in Uganda.
The Forum for Democratic Change leader later appeared in court, with six others, accused of inciting violence and assaulting a police officer.
Dr Besigye was released on medical grounds until 2 May when he must appear to take a plea. His co-accused were remanded in custody.
Dr Besigye, who was shot in the hand during a similar recent protest, lost to President Museveni in a February election he says was rigged.
Before the polls, Dr Besigye had called for Egypt-style uprisings in the event of fraud.
Police responded by banning public demonstrations.
April's "walk-to-work" campaign, organised by several opposition parties over rising fuel and food prices, has been marked by clashes between protesters and the police, tear gas and the arrest of opposition politicians.
The police who arrested Dr Besigye for the fourth time argued that he was blocking the road.
"He was inciting violence, blocking the road and disobeying police officers," Kampala police commander Grace Turyagumanawe told AFP news agency.
After hauling him from the car, he was bundled into the back of a pick-up truck by plain-clothed policemen.
Officers then dispersed hundreds of Dr Besigye's supporters with tear gas.
Dr Besigye recently told the BBC he had not spoken to President Museveni in more than 10 years.
The pair used to be allies, and Dr Besigye was once Mr Museveni's personal physician.