DR Congo ferry capsizes on Lake Kivu, killing dozens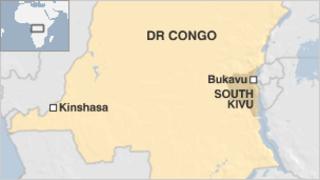 A ferry has capsized on Lake Kivu in the east of the Democratic Republic of Congo, killing at least 38 people, aid group the Red Cross says.
It was caught in strong winds and waves soon after leaving Minova bound for the city of Bukavu on Sunday evening.
A Red Cross rescue team has so far recovered 11 survivors and an estimated 50 passengers are still missing.
Boats are common transport in DR Congo, which has few viable roads or railways but several major lakes and rivers.
Desire Yuma, Red Cross president in South Kivu province, said rescue efforts would continue until Tuesday morning.
According to the Red Cross and to an employee of a local shipping company, the vessel involved in the accident was an open, wooden motor boat carrying goods as well as around 100 passengers.
The BBC's Thomas Hubert in the capital, Kinshasa, says the new tragedy is another illustration of the low safety levels on the boats that criss-cross the country's lakes and rivers.
The government routinely accuses boat owners of ignoring regulations and overloading, he says.