South Africa halts Shell's Karoo gas plans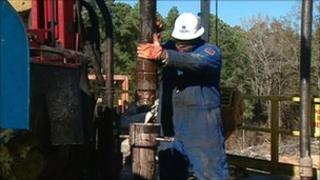 South Africa's government has halted plans by the oil firm Shell to extract natural gas from the Karoo desert by using a method known as "fracking".
The process involves pumping pressurised water, sand and chemicals into the ground to extract the gas.
The cabinet decided to stop the development until the ecological consequences have been studied.
Experts have also warned it could put an end to South Africa's bid to host the world's biggest radio telescope.
The Square Kilometre Array telescope, a multi-million dollar project which could begin construction in 2016, requires an absence of radio interference, which the fracking may cause.
Several government departments will lead the research into whether the semi-arid Karoo region could be damaged by fracking.
"Cabinet has made it very clear that clean environment together with all the ecological aspects will not be compromised," said government spokesperson Jimmy Manyi in a statement.
Shell told the BBC it was going to ask the government to clarify its statement.