Uganda's Kizza Besigye to spend Easter in jail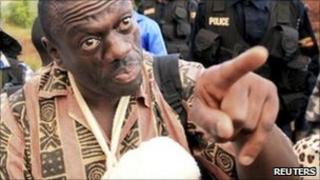 Ugandan opposition leader Kizza Besigye will spend Easter in jail after being arrested for a third time this month.
He was detained during a "walk-to-work" protest against high prices in the capital, Kampala.
The Forum for Democratic Change leader was charged with unlawful assembly and his bail hearing set for next week.
Dr Besigye, who was shot in the hand during a similar protest a week ago, lost to President Yoweri Museveni in a February election he says was rigged.
Mr Museveni has warned the walking campaign over the high cost of food and fuel is illegal.
Before February's election, Dr Besigye had called for Egypt-style uprisings in the event of fraud. Police responded by banning public demonstrations.
Child killed
April's "walk-to-work" campaign, organised by several opposition parties, has been marked by clashes between protesters and the police, tear gas and the arrest of opposition politicians.
Ahead of the the fourth day of the protest, a group of women pleaded with Dr Besigye not to walk from his home on the outskirts of Kampala.
They said they had had enough of the tear gas and commotion.
Instead he drove part of the way and then got out of his car and started walking.
A crowd then joined him, which was when the police fired tear gas and moved in to arrest Dr Besigye.
In protests in the central town of Masaka several people were injured and a four-year-old child was killed.
It is the third time the runner-up in February's election had been charged over the campaign.
On Monday, after being charged with inciting violence, he was released on bail.
But the judge said on Thursday that the court was too busy to hear the bail application and set next Wednesday for the hearing.
The BBC's East Africa correspondent Will Ross says that while Uganda's government appears heavy-handed in its response, it clearly has one eye on events in north Africa and does not want protests to gain any momentum whatsoever.
Dr Besigye has been defeated by Mr Museveni in three presidential elections, gaining 26% to the president's 68% in February.
The pair used to be allies, and Dr Besigye was once Mr Museveni's personal physician.