Tripoli witness: Tales of defiance and a mystery man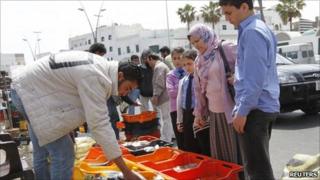 Tales of fleeting acts of defiance and a mysterious hooded rebel momentarily lift the spirits in a city of fear, as one resident in the Libyan capital, Tripoli - who does not want his name to be used for security reasons - explains.
I have come across some interesting and amusing analogies for this conflict in the past week.
"The opposition is singing along to the tune of 'Hit the road, Jack', while the regime's ruling family rocks on to the tune of 'Should I stay or should I go'," one musical analogy goes.
Another is: "It's like a bad round of poker. The winning hand is bluffing until the last minute when he reveals his true cards, but his opponents around the table are well aware of the ruse throughout the game."
Realities are not as light-hearted, however.
Last Thursday afternoon, a friend of mine stopped by to tell me what he had seen and heard.
"There was a small anti-government demonstration by students just outside Nasr University. I heard the shooting because I was in the area, I walked over and got as near as I could and I saw a crowd and a scuffle," he explained.
"Then security forces moved in, sealed the area and pushed out onlookers. We all left quickly. Other people I know later told me they saw some blood being covered with sand. No one died, but someone was definitely injured in the shooting."
Dark threats
To a visitor - not that there are many these days - and to some looking from the outside, things may appear normal here. But the reality is far from it.
For example, every TV screen in cafes, clothing stores and mini-markets is tuned into the same state-run station that no-one really watched two months ago. In normal circumstances, they would be beaming out al-Jazeera Arabic or a music channel.
"We can't change the channel," a shop-owner tells me. "The security people randomly check all our shops to make sure we don't put the 'enemy' channel on."
That is not the only tale from private businesses. Many tell me they were forced to open their stores and cafes, having shut down for two weeks following anti-government protests in Tripoli on 20 and 25 February.
"Remaining closed was our way of protesting, but they [government entities] told us we have to open or they would give our shops to someone else and they will continue our business," one said.
Others tell me of a darker threat by various security apparatuses. "They said: 'You open or we will destroy you and your family and your shop.' So what can we do?" another said.
All these measures are arguably adding pressure on many here who are already reeling from the state of limbo they find themselves in.
'Gone mad'
Most grown men and women are pestered by their families to return home before sundown - the unspoken civil curfew.
It is perhaps understandable, given the unwanted trouble that can be caused by the sporadic gunfire (not against Nato aircraft) that often envelops some parts of the city at night, as well as the countless checkpoints that emerge on every street.
But daylight is not necessarily a pleasant experience either.
A friend told me about his cousin who - last Monday - said she would go mad if she stayed at home for another day.
"She went out and took her mother with her. It was around one in the afternoon. As they drove up the main road in Gergaresh they were forced to slow down as three cars sped past them.
"There were two white Chevrolet cars chasing another car with a young man driving. They quickly cut him off and forced his car to pull over.
"The men in civilian clothes who jumped out of the two white cars were armed with Kalashnikovs. The two women saw the men dragging the young man out of his car by force; they beat him, tied his hands together and threw him into the back of one of their cars and drove away.
"My cousin made a quick U-turn and came back home terrified of what she saw."
My friend is visibly uncomfortable as he recounts the incident: "That was in broad daylight! They don't care who sees what any more, it's like they've gone mad and are constantly out for blood," he adds.
Hooded man
In the Souk-el-Joumha district, one of three large areas in the capital that are home to many of the uprising attempts, there is a "talking wall".
In a fit of laughter my friend recounts a story his friend witnessed in four consecutive days because he lives close to the infamous wall.
"At first we saw an anti-government message painted on the wall: 'May the regime the toppled.' Then we saw it white-washed - [presumably by local neighbourhood government agents] - and written over in black: 'Allah, Muammar [Gaddafi] and Libya.' Then we saw that message white-washed and written over with an anti-regime slur. It went on back and forth like a conversation for three days until the last message we saw said: 'NO! We told you, No! - Muammar only!'"
Then we have a mysterious figure that has emerged on the streets recently.
There is a hooded man, I'm told, who runs around in public in Salaheddine district.
"Every time there's a Nato air strike in the capital, he runs around a street shouting: 'May the butcher [Colonel Gaddafi] fall! May the regime be toppled!' And then he flees. I don't think he's been caught by anyone yet. We still hear about him," a friend tells me with a thoughtful grin.
Meanwhile, there have been several sightings of the "opposition flag" in Tripoli, albeit for a fleeting moment.
A friend of mine who lives in Salaheddine district saw one flapping about in the wind early one morning last week. "It was on the roof of a small clinic next to the mosque," he amusingly recalls.
Another flag - quite surprisingly - was briefly raised on top of the Taqadom School in Ben Ashour district, some residents there tell me.
A stolen moment of "freedom" here comes in different forms, in an attempt to let off steam from a city that has been likened by many here to a sleeping volcano.
This article was written by BBC Tripoli correspondent Rana Jawad, whose identity was disguised for her safety. You can read her account of reporting undercover from Tripoli here.