Kenya and Uganda: People power eludes East Africa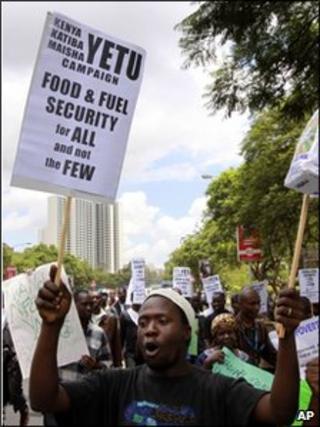 With sky-high fuel prices and the cost of food reaching an all-time peak, some Kenyans have decided enough is enough and it is time to make some noise.
"We have had to cut down. If you are taking breakfast, you are not taking lunch. If you are taking lunch you are not taking dinner," said Diana Owuor as she joined a protest march through the streets of Nairobi.
"We blame corruption and we do not want our members of parliament engaging in business. In parliament we have a group of merchants. They are selling seeds, they are selling fuel. It is cartels and we know it," added Ms Owuor who heads the pressure group, Bunge La Mwananchi or The People's Parliament.
"I haven't got enough food to feed my family," said a man holding up empty bags of maize flour to protest at the high price of the staple food.
The Kenyan government has announced a small reduction in the tax on diesel and kerosene - the cooking fuel most popular with the urban poor - but there are growing calls for more action. With people being pushed to the wall, why were fewer than 100 protesters on the streets?
One reason is in Kenya there is no political opposition. Since the post-election violence of early 2008, the people have endured the bickering of a bloated, corruption-tainted coalition government.
"Although it appears outwardly that our political class is constantly fighting, there is a basic underlying unity. Neither group is really interested in any kind of mass movement so that is certainly a disadvantage for those who want to organise public protests," said Professor Yash Pal Ghai.
"But there is such massive discontent in the country it would not take a lot to organise them and turn them into a populist movement. The question is how far one really wants to go down that route as there would be reprisals and innocent people would be killed. So we have to very careful about the way we plan our strategy," he added.
Apart from poor publicity, another reason for the small turnout could be the population has been cowed. For years during Daniel Arap Moi's presidency, people risked a clobbering at the hands of the feared police if they dared protest.
Uganda's lavish spending
Some would say those are the tactics being used across the border in Uganda where inflation has topped 11% and is hitting people hard.
With one eye on events in the Arab world, President Yoweri Museveni is determined to ensure protests do not gather momentum and has turned to the police and the army.
The opposition may have been accused of failing to capture the imagination of the population during the recent election campaigns but by making noise over the high cost of living, it has finally picked on an issue which the masses can relate to.
With demonstrations banned, the opposition called walk to work protests (even though two legs rather than four wheels is already the only option for thousands of commuters).
Portraying the president as out of touch, the runner-up in the February election, Dr Kizza Besigye, is milking the people's economic woes to gain as much publicity as he can. He is also making the government appear twitchy and oppressive.
So far he and other politicians have been arrested twice in a week and charged with inciting violence.
"But I am doing whatever I am doing peacefully - walking according to the rules of walking," Dr Besigye says, vowing to continue the campaign.
The opposition argues that the only violence taking place is as a consequence of the police action. The government says Dr Besigye is simply trying to cause chaos and violence for his own gain.
There are plenty of Ugandans who dread riots as that would make their struggle to earn a living even harder. But President Museveni is giving people a fair bit to grumble about. At a time when pockets are under pressure, his swearing-in ceremony is set to cost more than $1.5m. It is also reported that $750m are being spent on new fighter jets.
Economists also worry about the fact that in order to help smooth Mr Museveni's way back into office, a vast amount of government money was used to shower the electorate during campaigns.
Dr Besigye recently told me he had not spoken to his former ally in over 10 years. So talking with the opposition seems a highly unlikely route for Mr Museveni to take - he would be perceived as having given in.
Meanwhile the government is accused of putting more energy into clobbering the opposition rather than looking for ways to help alleviate the population's woes.
Back in Kenya, the demonstrations are for now too small to be a threat. But if you want to know what does get Kenyans out on the streets in huge numbers, you should have been in Nairobi on 11 April.
Tens of thousands of people were mobilised for a welcome home party. Not for medal wearing marathon runners but for politicians who had been to The Hague where they are facing charges of crimes against humanity over the post-election violence. They were treated as heroes.
Do not expect large protests in Kenya. There is not much people power here. The politicians hold it all. The people are to a large extent their pawns.