Central African Republic profile - Leaders
Interim president: Catherine Samba-Panza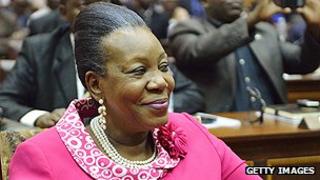 Catherine Samba-Panza was chosen as new interim president in January 2014 to lead the country out of months of sectarian killings.
Mrs Samba-Panza, is a French-trained lawyer who was the mayor of the capital Bangui.
Her selection by parliament came at a time of deepening international involvement in the Central African Republic following waves of killing and looting that forced 1 million people - nearly a quarter of the population - to flee.
The country descended into chaos when mainly Muslim rebels, known as Seleka, seized power in March 2013.
Abuses by Seleka fighters triggered revenge attacks by Christian militia known as 'anti-balaka', fuelling unprecedented violence between communities that had lived side-by-side.
Mrs Samba-Panza succeeded Seleka leader Michel Djotodia who stepped down as interim president under international pressure over his failure to end the bloodshed.
The appointment of a candidate with no links to either camp in the fighting raised hopes of an end to the slaughter.
Mrs Samba-Panza is Africa's third female head of state, after Malawi's Joyce Banda and Liberia's Ellen Johnson-Sirleaf.
Prime minister: Mahamat Kamoun
Mahamat Kamoun was appointed by presidential decree in August 2014 as the country's first Muslim prime minister.
He was tasked with leading a transitional government that is seeking to implement a precarious ceasefire signed in the previous month.
The selection of Mr Kamoun, who had worked for Michel Djotodia, the leader of the Seleka rebel group, is part of an effort to create a more inclusive government after more than a year of religious and sectarian violence.