Cameroon profile - Timeline
A chronology of key events: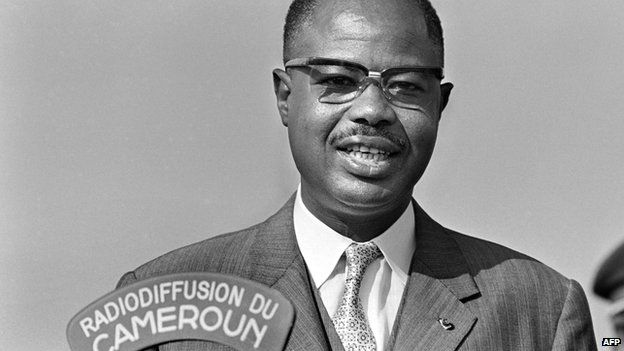 1520 - Portuguese set up sugar plantations and begin slave trade in Cameroon.
1600s - Dutch take over slave trade from Portuguese.
1884 - Cameroon becomes the German colony of Kamerun.
1911 - Under the Treaty of Fez - signed to settle the Agadir Crisis Franco-German conflict over Morocco - France cedes territories to the east and south to Cameroon.
1916 - British and French troops force Germans to leave Cameroon.
1919 - London Declaration divides Cameroon into French (80%) and British administrative zones (20%). The British zone is divided into Northern and Southern Cameroons.
1960 - French Cameroon granted independence and becomes the Republic of Cameroon with Ahidjo as president.
1961 - Britain's Cameroons colonies divide between Cameroon and Nigeria after a referendum. A large-scale insurrection mars the country's first years of independence until it is put down in 1963 with the help of French forces.
1966 - National Cameroonian Union formed out of six major parties and becomes the sole legal party.
1972 - Cameroon becomes a unitary state following a national referendum and is renamed the United Republic of Cameroon.
1982 - Prime Minister Paul Biya succeeds President Ahidjo, who resigns.
1983 - Mr Ahidjo goes into exile after President Biya accuses him of masterminding a coup.
1984 - President Biya elected to his first full term as president, changes the country's name to the Republic of Cameroon.
1986 - Discharge of poisonous gases from Lake Nyos kills about 1,700 people.
1992 October - Paul Biya re-elected in Cameroon's first multi-party presidential election.
1994 - Fighting between Cameroon and Nigeria flares up over disputed oil-rich Bakassa Peninsula.
1996 January-May - Further Cameroonian-Nigerian border clashes.
1996 May - Cameroon and Nigeria agree to UN mediation over Bakassa Peninsula.
1997 May - President Biya's party, the Cameroon National Democratic Movement (formerly the National Cameroonian Union), wins a majority of seats in parliament amid allegations of irregularities.
1997 October - President Biya re-elected in ballot boycotted by main opposition parties.
1998 - Cameroon classed as the most corrupt country in the world by business monitor Transparency International.
2000 June - World Bank approves funding for oil and pipeline project in Cameroon and Chad, despite strong criticism from environmental and human rights activists.
2000 October - Catholic Church in Cameroon denounces corruption, saying it has permeated all levels of society.
2001 June - Fears for Cameroon's environment increase, with Global Forest Watch reporting that 80% of the country's indigenous forests have been allocated for logging.
2001 October - Growing tension between government and separatists lobbying on behalf of country's five million English-speakers. Unrest results in three deaths, several arrests.
2002 October - Ruling by International Court of Justice gives sovereignty of oil-rich Bakassi Peninsula to Cameroon. But Nigeria, whose forces occupy the area, rejects the ruling.
2006 June - Nigeria agrees to withdraw its troops from the Bakassi Peninsula to settle its long-running border dispute with Cameroon.
The Paris Club of major lending nations agrees to cancel almost all of Cameroon's $3.5bn debt.
2007 November - Suspected Nigerian militants kill 21 Cameroon soldiers in Bakassi Peninsula.
2008 February - A nationwide transport strike in protest at fuel costs turns into a series of anti-government demonstrations in the capital, Yaounde, leaving at least 17 dead.
2008 April - Parliament amends the constitution to allow President Biya to run for a third term in 2011. The opposition condemns the move as a "constitutional coup".
2011 January - Cameroon secures Chinese loan to build deep sea port at Kribi, terminal of an oil pipeline from Chad.
2011 October- Paul Biya wins a landslide re-election as president, officially taking 78% of the vote. His opponents reject the result, alleging widespread fraud.
2013 February - A French family of seven is kidnapped by the Islamist group Boko Haram near the Nigerian border, and released two months later.
2014 January - A French priest kidnapped by Islamist gunmen in the far north of Cameroon in November is freed.
2014 May - Cameroon deploys about 1,000 troops to the border with northern Nigeria to counter a rising threat of incursions and kidnappings by Boko Haram.
2014 October - Twenty-seven hostages kidnapped by Boko Haram in Cameroon earlier in the year, including 10 Chinese workers and the wife of the deputy prime minister, are freed.
2015 January - Chad pledges military support for Cameroon against Boko Haram.
2016 November - Violent protests against the imposition of French in Anglophone parts of Cameroon.
2017 March-November - Unrest as Anglophone minority in north- and south-west regions continue protest action against perceived marginalisation.
2018 March - Two soldiers are killed in clashes with separatists in Anglophone areas, the latest of several deadly incidents in an insurgency related to the campaign for greater autonomy.
2018 October - President Paul Biya wins a seventh term in a vote marked by low turnout and voter intimidation.