Cameroon profile - media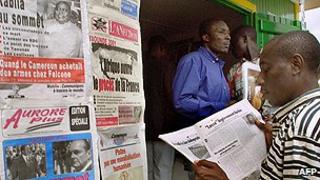 State-run CRTV operates national TV and radio networks and provincial radio stations. There are dozens of private radio and TV stations.
Journalists reporting on sensitive subjects risk lawsuits and extrajudicial detention, says US NGO Freedom House.
BBC World Service radio is available via local relays (98.4 FM in Yaounde).
There were around 4.3 million internet users by 2016 (InternetLiveStats.com).
Amid protests in Cameroon's English-speaking regions, internet access in these areas was suspended in early 2017.
Press
Cameroon Tribune - state-owned daily in French, English
Mutations - privately-owned French-language daily
Le Messager - privately-owned, Douala
The Herald - English-language
The Post - private, English-language
La Nouvelle Expression - private, French-language
Television
Radio