Libya: Abdul Ati al-Obeidi warns UK plan may worsen war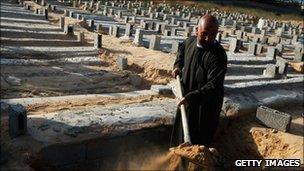 Libya's foreign minister says a British plan to send a military team to advise rebels fighting Col Gaddafi would harm chances of peace in the country.
A UK military presence in rebel-held Benghazi would "prolong" fighting, Abdul Ati al-Obeidi told the BBC.
UK Foreign Secretary William Hague said the move complied with a UN resolution to protect civilians in Libya, which forbids foreign occupation forces.
The team is set to provide logistics and intelligence training in Benghazi.
The BBC understands about 10 UK officers and a similar number from France will be despatched on the mission.
Libya is embroiled in a two-month uprising by rebels based in the eastern city of Benghazi to end Col Gaddafi's 42-year rule.
Following the fall of presidents in neighbouring Tunisia and Egypt, Libya's revolt has developed into an armed conflict, with rebels pitted against pro-Gaddafi forces for control over territory.
Misrata, the rebels' last stronghold in the west, has faced weeks of heavy bombardment.
Mr Obeidi proposed that there should be a ceasefire followed by an interim period of maybe six months to prepare for an election which would be supervised by the UN, as proposed by the African Union roadmap.
"We think any military presence is a step backwards and we are sure that if this bombing stopped and there is a real ceasefire we could have a dialogue among all Libyans about what they want - democracy, political reform, constitution, election. This could not be done with what is going on now," said Mr Obeidi.
He said the election would cover "whatever issue is raised by Libyans", and that anything could be on the table, including, he implied, the future of Col Gaddafi as leader.
Countries he had visited had been supportive about a suggested ceasefire and helping the humanitarian effort, Mr Obeidi added, but pointed to the UK, France and Italy as being unhelpful.
Mr Obeidi said everything possible was being done to help international aid organisations give help to people in Misrata.
UN Security Council Resolution 1973, passed in March, authorised "all necessary measures short of occupation" to protect civilians.
Nato is currently in charge of the no-fly zone and coalition operations have been largely confined to air attacks.
On Wednesday, Libyan state television reported that Nato aircraft were bombarding telecoms and broadcasting infrastructure in several cities.
And Maj Gen John Lorimer, a spokesman for the UK Chief of Defence Staff, said that on Tuesday, RAF Tornado and Typhoon aircraft had used precision-guided weapons to attack three tanks and a vehicle-mounted artillery piece "in and around Misrata".
Mr Hague stressed the officers being sent to the eastern rebel stronghold of Benghazi would not be involved in any fighting.
They would be drawn from experienced British military officers and charged with supporting and advising the NTC [opposition National Transitional Council] on how to "improve their military organisational structures, communications and logistics".
French Foreign Minister Alain Juppe has said France is opposed to the idea of sending coalition ground troops into Libya, or even special forces to guide air strikes, to break the military stalemate.
Brig Gen Mark Van Uhm, chief of Allied operations, said almost 2,800 sorties had been flown over Libya, destroying more than a third of Col Gaddafi's military assets.
He said the situation on the ground remained fluid and was changing daily.
Related Internet Links
The BBC is not responsible for the content of external sites.