Libya conflict: Rebels accused of reneging on mines vow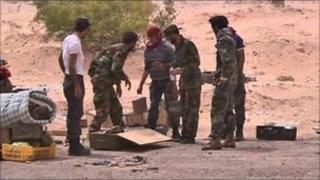 Human rights campaigners have accused rebels in Libya of failing to honour a pledge not to use land-mines in their fight against Muammar Gaddafi.
The BBC filmed rebels planting anti-vehicle mines near the key town of Ajdabiya at the weekend.
Human Rights Watch researchers said mines had been laid despite rebel assurances they would not be used.
The organisation has already gathered evidence of use of mines and cluster munitions by Col Gaddafi's forces.
Devices filmed by the BBC at the weekend have been identified as PRB-M3 anti-tank mines produced in Belgium during the 1970s and 1980s.
Tens of thousands of the mines, which are cased in plastic and contain almost 7kg (15lb) of explosives, have been found stockpiled in depots in the rebel stronghold of Benghazi in eastern Libya.
'Used without precautions'
"Despite their promises not to use any kind of mines, the video footage clearly shows rebel fighters laying anti-vehicle mines on the outskirts of Ajdabiya," Peter Bouckaert, emergencies director at Human Rights Watch (HRW), told BBC News.
"We call on the rebel authorities to formalise their pledge not to use mines, to clearly command their forces not to use any type of mines, and to clear and secure any remaining mines."
The weapons used by the rebels fall outside the 1997 Ottawa Treaty, which bans anti-personnel but not anti-vehicle land-mines. Libya has not signed the treaty.
However, campaigners say mines such as the PRB-M3 are often deployed in violation of international humanitarian law.
HRW says the use of PRB-M3 mines and the manner in which they have been laid in Libya make them particularly dangerous to non-combatants.
Because they are made of plastic, it is hard for de-mining teams to detect them. Areas mined by the rebels appear not to have been marked or mapped, making any future clearance efforts more difficult.
Variants of the weapon held in rebel stockpiles can also be booby-trapped or fitted with a sensitive fuse.
Although the devices are designed to be triggered by the weight of a vehicle, the pressure caused by stepping on a device fitted with a sensitive fuse can be enough to cause an explosion.
Campaigners say this, in effect, makes the weapon an anti-personnel landmine.
"While not specifically banned, these anti-vehicle mines are being used by the rebels without any precautions to avoid civilian casualties and that violates their obligations under international law," said Mr Bouckaert.
"The rebels should immediately cease the use of all types of mines if they want to avoid civilian casualties as they have pledged," he added.