France 'should send in commandos to Libya'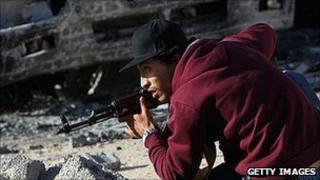 French commandos should be deployed on the ground in Libya to help guide air strikes, a senior French official says.
Axel Poniatowski, chairman of France's foreign affairs committee, warned the Nato campaign could become bogged down unless allies put boots on the ground.
The UN resolution authorising force to protect civilians in Libya forbids a "force of occupation" on Libyan soil.
Meanwhile, a ship has evacuated nearly 1,000 foreign workers and wounded Libyans from the city of Misrata.
The Ionian Spirit left the besieged city on Monday for the rebel stronghold of Benghazi in eastern Libya.
Mr Poniatowski's statement came as rebel forces said they had made ground in Misrata in the west, but pro-Gaddafi forces continued to press the rebel-held town of Ajdabiya in the east.
"The exclusive use of air power, as imposed on us by UN Security Council resolution 1973, has proved its limitations in the face of targets that are mobile and hard to track," Mr Poniatowski said.
He said Nato pilots often found it hard to differentiate between pro-Gaddafi forces and the rebels from the air.
"Without information from the ground, coalition planes are flying blind and increasing the risk of friendly fire incidents," he said.
Rebel convoys have been mistakenly bombed by Nato planes on at least two occasions.
Mr Pontiakowksi argued that special forces could have a limited mission to guide allied air strikes and select ground targets without breaking the "spirit" of the UN resolution.
Meanwhile, the International Organisation for Migration (IOM) said on Monday that thousands more people in Misrata were waiting to be rescued from what it described as an increasingly perilous situation.
Pro-Gaddafi forces have been pounding the city for days and hundreds of civilians are thought to have been killed.
"We wanted to be able to take more people out but it was not possible," said Jeremy Haslam, who led the IOM rescue mission.
"Although the exchange of fire subsided while we were boarding... we had a very limited time to get the migrants and Libyans on board the ship and then leave."
The UK has pledged to pay for the evacuation of 5,000 people from Misrata.
The UN's emergency relief co-ordinator, Valerie Amos, said the Libyan government had assured her that the UN could establish a humanitarian presence in the country.
Baroness Amos called for a ceasefire to allow this to happen.
A rebel spokesman in Misrata told Reuters they had "made progress" in the city and were "controlling some areas surrounding Tripoli Street".
However, he said rebel fighters were facing snipers and troops armed with rocket-propelled grenades.
"It is clear Gaddafi wants to wipe out Misrata. Nato's inaction is helping him carry out this plan. Are they waiting for a massacre to realise that they need to change tactics?" he said.
Libyan state news agency Jana said that Nato air strikes destroyed the main telecommunications tower in the city of Sirte on Monday.
The report said "the bombardment of the colonial and crusader aggressors" also hit two other telecommunications stations in the city.
There has been no independent confirmation of the report and no word from Nato.
Despite last month's UN resolution authorising air strikes to protect civilians in Libya, rebels have been unable to retain territory during fighting along the coastal towns of eastern Libya.
Col Gaddafi is defying international pressure to step down despite the revolt against his 41-year rule that began in Benghazi in February.