Libya conflict: Gaddafi attack intensifies in Misrata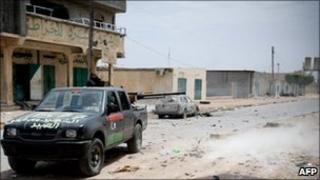 Fighting has intensified in the Libyan port of Misrata as government forces attempted to retake the rebel-held city after a two-month siege.
A rebel spokesman said Col Gaddafi was trying to create a humanitarian crisis in the only rebel-held western city.
Rebels who have been attempting to end Muammar Gaddafi's four-decade rule say Nato forces should be doing more to protect its 300,000 residents.
In the east, fighting has continued on the coastal road to Benghazi.
Fierce battles on the road between Ajdabiya and the strategic oil town of Brega - which has changed hands half a dozen times since February - killed a number of rebels and wounded many more, reports said.
Meanwhile, anti-aircraft fire was heard in Tripoli, suggesting the Libyan capital was coming under attack from the air, although there were no immediate reports of damage.
Factory shelled
Frustration is growing among the Misrata's residents, who have come under intensified attacks by pro-Gaddafi forces in recent days, and are critical of Nato for failing to halt the deadly assault.
Rebels said dozens of Soviet-designed Grad rockets had been fired at an industrial district of Misrata by government forces, although this has not been confirmed.
The Grad, which launches multiple rockets from mobile launchers, has been blamed for a number of civilian deaths in recent days, including eight people in a bread queue.
Five civilians were killed as a dairy factory sustained half an hour of heavy shelling, a doctor said.
On Friday, US-based Human Rights Watch accused the Gaddafi regime of using cluster bombs - which scatter multiple bomblets, causing indiscriminate casualties, and have been banned by most countries - although the Libyan government vehemently denies the charge.
"There's no more room for hesitation or for not standing with determination against what is happening in Misrata and other Libyan cities, because the destruction that Muammar Gaddafi is causing in Libyan cities is great and extensive," said Abdel Hafidh Ghoga, a spokesman for the rebel's Transitional National Council in Benghazi.
He said several hundred injured civilians from Misrata had already been taken to Turkey for treatment.
The Gulf state of Qatar is said to be providing medical assistance, and about 1,000 other victims evacuated by sea have been taken to Benghazi.
Libya's government says it is committed to helping the people of Misrata, after having facilitated a visit to the town by the International Committee of the Red Cross.
Tanks destroyed
The Nato mission to protect Libyan citizens is clearly not working, says the BBC's Jeremy Bowen in Tripoli, and Western powers will have to reassess the political and military risks they are prepared to take.
Nato argues that it is difficult to strike Col Gaddafi's forces in urban areas, although it said air strikes on Friday had destroyed two tanks in the area.
UK Foreign Secretary William Hague has stressed the need for Nato to act swiftly to prevent a "massacre" in the city, saying on Friday that Nato had been constrained by the need to avoid civilian casualties but had probably prevented the city from being overrun by Col Gaddafi's forces.
On Friday a meeting of Nato foreign ministers in Berlin ended without a commitment from non-participating nations to contribute combat aircraft to the alliance's military operations over Libya.
The US, UK and France said in a joint statement that the threat to Libyan civilians will not disappear while Col Gaddafi remains in power.
However, Russia has suggested Nato has been exceeding its UN Security Council mandate to protect civilians.