Nigeria: Voting around the country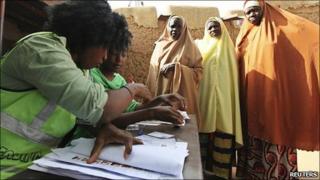 Polling has finished in Nigeria for Africa's biggest presidential election, where some 74 million people were registered to vote.
Incumbent Goodluck Jonathan, from the south, is seen as frontrunner - his main challenger is expected to come from Muhammadu Buhari, an ex-military leader popular in the north, with anti-corruption boss Nuhu Ribadu as an outside contender.
Before the polling stations opened there were two explosions in the north-east city of Maiduguri, though no injuries have been reported.
BBC correspondents around the country sum up how voting went.
Dan Isaacs, Kano city, Kano state
It was a very long day for voters here in Kano. They stood patiently in the intense heat for many hours, often with little or no protection from the sun.
Men and women lined up in separate queues as is the Muslim custom.
"I'm not happy," said Felix Audu Arikibi, having arrived early in the morning and still waiting in line late into the afternoon. "But I'll bear it because I want to vote, I want change."
His was a familiar experience at polling stations across Nigeria's largest northern city.
Although the election materials had arrived promptly, the procedures for accreditation and voting were desperately slow.
But election officers stuck to their task and dealt with the inevitable frustrations calmly.
Returning in the early evening, I found people still queueing at one large polling station, but with remarkable forbearance, such is the determination to vote here.
The high turnout certainly reflected that view, and the overwhelming opinion was that the delays would be worth it if the polling proved free and fair.
So, late into the evening the process has continued, with each polling station ending the day with an open count of the ballots, in front of voters.
It is a system which the election organisers hope will minimise the fraud which has become so familiar to Nigerian voters over the years.
Tomi Oladipo, Lagos city, Lagos state
This usually bustling city - the biggest in Nigeria - has been taking a breather today as Lagosians stayed within their neighbourhoods to vote.
People arrived at the polling stations early to get accreditation, a process that was speedy in many centres I visited.
The sun has been out and people have been having to brave the heat in long queues to vote. At some polling stations the communities have provided chairs and shade for the voters.
"I have hope, and with that hope I am voting for a leader that will bring good changes, particularly in education," said Ronke Adeshina.
"When people are educated they will be able to stand up for what they believe in," she added.
Voting began smoothly just after midday in most polling stations.
Yoghurt vendor 'winner'
On some queues people were discussing how to prevent smudges from their fingerprint marks on the ballot papers, which could invalidate their votes.
"If you fold the ballot paper your thumbprint will appear twice on the paper and that will be no vote," Charles Nwachukwu, a university student explained.
At one polling unit a vendor selling cold yoghurt and flavoured milk was one of the big winners of the day, attracting his own queue.
After voting, almost everyone present would stop to buy refreshments from him - much needed because of the scorching heat.
I also met Olabisi Odunlami, a Nigerian usually resident in the US: "I've come just for these elections. I registered in January and I stayed to vote, because I'm tired of coming home every Christmas - no light, no water, nothing!"
Showing the ink-stain on her finger, she said: "I voted against corruption because outside the four walls of this country, you'd be ashamed to call yourself Nigerian because people look down on us."
Most voters left the polling stations immediately after voting, although some said they would return later in the afternoon to observe the vote counting.
Mansur Liman, Daura, Katinsa state
There has been a celebratory mood here in Daura, home to one of the main presidential candidates, Muhammadu Buhari of the CPC.
Despite the heat, many people here in one of Katsina's biggest towns - not far from the border with Niger, waited in queues for hours.
Many of them refused to go home after being accredited, instead waiting until voting started.
"We hope our votes will give us want we want," one voter said.
People turned out in massive numbers, especially at the polling station where the former military leader voted.
There were chaotic scenes when Gen Buhari first turned up for accreditation.
People surged forward to greet him and it took him 20 minutes to walk 20m to the electoral officials because of the crowds.
The security forces were overwhelmed and even though Gen Buhari raised his hands, urging people to move back, they did not listen.
After his accreditation he went back to his house and came back after midday to cast his vote.
Security was much better on his return and the crowd was controlled.
Afterwards, he expressed his delight about voting, saying he was ready to accept the result of the poll as long as foreign and domestic election observers said it was 60% credible.
As the sun set, counting has got under way at many polling stations, with crowds watching. There was cheering when Gen Buhari was declared the winner at a station.
At other stations, people continued to queue with others who had cast their ballot waiting on nearby verandahs, saying they would not go until they had seen all the votes counted.
Fidelis Mbah, Yenagoa, Bayelsa state
The turnout has been huge in Bayelsa - especially in comparison to previous elections and even last week's parliamentary vote.
People here attach more importance to who emerges as president, and given that Goodluck Jonathan, from the ruling PDP, is their kinsmen they have turned out in strength.
In fact, you would be hard pressed to know if there were any other contenders - I have not seen one poster or billboard for the other candidates.
President Jonathan cast his vote in his village of Otuoke - a 15-minute drive from the state capital, Yenagoa.
Some 300 people were also there, defying the hot weather as they queued for a long time.
Some people I spoke to in the queues said they were sure their vote would count this time.
Shops nearby polling stations were doing good business as voters stopped off for refreshments.
One person died in violence last week during the parliamentary voting, but today things seem orderly.
This may be because the main opposition in the state comes from the Labour party and other small parties, all of which have an unofficial pact that their supporters should back Mr Jonathan for president.
But security has been tight and there are many checkpoints along the fairly quiet roads, manned by anti-riot police and soldiers.
Abdullahi Tasiu Abubakar, Yola, Adamawa state
Accreditation of voters got under way in Yola, a drab dusty city in the north-eastern state of Adamawa and the home state of ACN presidential candidate Nuhu Ribadu without delay.
Voters began to walk to their polling stations before they opened at 0800 local time (0700 GMT).
By the time election workers and security agents began to arrive at some polling stations around 0745, some voters had already started forming queues.
But the queues were not really long and turnout in general in this state has been low.
Some said this was because they were disappointed by the results of last week's parliamentary vote as the people they had voted for had not won - so they feared irregularities.
There were some cases of missing voters' names; and some angry people whose names disappeared from the register were complaining.
'Polling station burnt'
The results have already been posted at some polling stations where counting has finished.
At the two centres I visited, Muhammadu Buhari of the CPC was the clear winner.
Even at the polling station where Mr Ribadu voted, Gen Buhari took with 250 votes compared to his 85. Goodluck Jonathan of the PDP took 64 votes.
Most people left after voting, but a few stayed behind to watch from afar as the ballots were counted out by the electoral officials surrounded by party agents.
While voting was largely peaceful and orderly in Yenagoa, outside the state capital there were reports of violence and allegations of rigging.
There was a report of violence in Lafiar-Lamurde in Lamurde district, where a polling unit was said to have been burnt down over an attempt to stuff ballot boxes for a particular party favoured by the government.
There was also a report of the burning of the house of a state government official in Jada district when people allegedly caught some election staff stuffing ballot boxes in the house.
A female electoral official has been arrested.
Police decline to confirm any of the two cases of violence saying that they were still awaiting reports from the areas.
The state commissioner of police, Abubakar Musa Daura, has however confirmed the arrest of the female staff.
He said they are investigating the matter to uncover the persons behind the alleged ballot-stuffing.
Chris Ewokor, Abuja city, Federal Capital
The two bomb scares in the troubled north-eastern city of Maiduguri in the last 24 hours did not deter voters here in the capital city where turnout was massive.
The eagerness and enthusiasm shown by Nigerians for this election seem to surpass any such zeal in past elections since the return to democratic rule in 1999.
A relatively successful parliamentary election last week, commended by observers despite isolated acts of violence, has renewed voters' faith in the electoral process.
"We voted last Saturday and we saw the outcome. There was no 'wayo' (fraud) so we believe it will be fine this time," a voter Francis Azubuike said.
Abuja largely remained calm and voting was smooth.
"I am happy that I have cast my vote," Kate Ogocha said, a supporter of the PDP's Goodluck Jonathan.
"And especially because I cast it for a man who can bring about change and transformation in Nigeria. A man who rose from a very humble beginning and by the grace of God became the president of this great nation.
I think we need to give a chance to continue what he has started."
Elsewhere there have been some problems have been reported in north-eastern Bauchi state, but in Jos in the troubled state of Plateau has remained largely peaceful.
There was a hiccup up in some areas when accredited election observers were arrested along with others masquerading as observers. But according to Inec, the official observers were promptly released.
'Impressive'
Uzoye Sorh, of the Nigeria Labour Congress election observer team in Abuja, feels it can pass for a credible vote.
"I spent a lot of time going round polling centres and it has been quite impressive.
"There were no real issues that were disruptive in any form, except for the crowd of voters at each polling centre. I believe Inec would need to look for ways of sharing or redistributing them so they don't become too large in a centre and prove too unwieldy to manage.
"But over all, it was a huge improvement over last week's parliamentary election. People whose names were missing were able to see their names and they voted today."
While voting lasts, movements are restricted across the country.
The streets of the capital have been empty and business districts that are unusually busy on work days have been very quiet like a ghost town. Stores too have been closed.
Counting has commenced in polling centres where voting concluded voting early.
After casting their ballots, many people have waited to hear the results in their centres.
Those with relatives and friends elsewhere have been making calls to check how the voting fared in other areas.
Now the waiting game begins - with results expected with the next 24 to 48 hours.
Nigeria: A nation divided
To win at the first round, a candidate not only needs the majority of votes cast, but at least 25% of the vote in two-thirds of Nigeria's 36 states. Goodluck Jonathan, of the PDP, reached that threshold in 31 states; runner-up Muhammadu Buhari of the CPC only did so in 16 states.
Nigeria's 160 million people are divided between numerous ethno-linguistic groups and also along religious lines. Broadly, the Hausa-Fulani people based in the north are mostly Muslims. The Yorubas of the south-west are divided between Muslims and Christians, while the Igbos of the south-east and neighbouring groups are mostly Christian or animist. The Middle Belt is home to hundreds of groups with different beliefs, and around Jos there are frequent clashes between Hausa-speaking Muslims and Christian members of the Berom community.
Despite its vast resources, Nigeria ranks among the most unequal countries in the world, according to the UN. The poverty in the north is in stark contrast to the more developed southern states. While in the oil-rich south-east, the residents of Delta and Akwa Ibom complain that all the wealth they generate flows up the pipeline to Abuja and Lagos.
Southern residents tend to have better access to healthcare, as reflected by the greater uptake of vaccines for polio, tuberculosis, tetanus and diphtheria. Some northern groups have in the past boycotted immunisation programmes, saying they are a Western plot to make Muslim women infertile. This led to a recurrence of polio, but the vaccinations have now resumed.
Female literacy is seen as the key to raising living standards for the next generation. For example, a newborn child is far likelier to survive if its mother is well-educated. In Nigeria we see a stark contrast between the mainly Muslim north and the Christian and animist south. In some northern states less than 5% of women can read and write, whereas in some Igbo areas more than 90% are literate.
Nigeria is Africa's biggest oil producer and among the biggest in the world but most of its people subsist on less than $2 a day. The oil is produced in the south-east and some militant groups there want to keep a greater share of the wealth which comes from under their feet. Attacks by militants on oil installations led to a sharp fall in Nigeria's output during the last decade. But in 2010, a government amnesty led thousands of fighters to lay down their weapons.