Ivory Coast: Doubts over arrest of Charles Ble Goude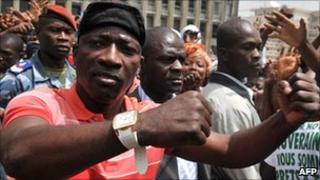 The whereabouts of Charles Ble Goude, a key ally of deposed Ivory Coast leader Laurent Gbagbo, are unclear, after a spokesman withdrew a statement saying he had been arrested.
The BBC's John James says there have been many rumours about Mr Ble Goude.
Mr Ble Goude, known for his vitriolic speeches, mobilised thousands of young men to join the army in the final days of the four-month election dispute.
Many other members of his Young Patriots group were given weapons.
Since December about 1,500 people have been killed and a million forced from their homes.
Mr Gbagbo named Mr Ble Goude his youth minister after he refused to accept that he had lost November's elections and tried to stay in office.
Mr Gbagbo was captured on Monday at the presidential residence by President Alassane Ouattara's forces but Mr Ble Goude was not one of those taken into custody at the same time.
He was put under UN sanctions in 2006 accused of inciting attacks against UN personnel.
Pledge allegiance
Mr Ouattara's spokesman Patrick Achi had told the BBC and French radio that Mr Ble Goude was being held in a secure place, without giving further details.
He later told the AFP news agency: "The initial information I had has not been subsequently confirmed."
Mr Ble Goude's aide, Semi Bi, told the BBC afterwards that he did not know about the arrest or where Mr Ble Goude was.
Most moderate and undeclared members of the Gbagbo government have now pledged allegiance to President Ouattara, our correspondent in Abidjan says.
Others have fled the country, often to neighbouring Ghana, or sought diplomatic protection, he says.
The conflict threatened to plunge the world's biggest cocoa producer back into civil war.
After a long deadlock, pro-Ouattara forces swept down from their northern bases into the main city, Abidjan.
Mr Gbagbo put up a final stand in the presidential residence but extra firepower from UN and French forces made the difference.
Sexual slavery
A new report from the International Rescue Committee aid agency says alarming numbers of women and girls have also been raped, sexually assaulted, beaten and harassed by armed men as they were fleeing violence, many to neighbouring Liberia.
The IRC's Liz Pender, in the Liberian town of Ganta, said those who are reporting incidents represent a tiny fraction of the victims.
"The types of sexual violence we're hearing about is devastating," she told the BBC's Network Africa programme.
"It's rape, it's gang rape, it's sexual slavery - men taking them as 'wives', keeping them for a week, exchanging them with their friends and the girls or women either manage to escape or are subsequently killed."
One woman told Ms Pender how she was forced to watch as several men took turns raping her sister who was then beaten to death.
The women were reluctant to say which side's fighters had attacked them.
This week, Mr Ouattara, who is recognised by the UN peacekeeping mission in the country as the winner of November's poll, promised to set up a truth and reconciliation commission.
He said that all sides responsible for atrocities in the conflict would face justice.
The UN refugee agency says major reconciliation efforts will be needed for those who fled in the west of the country to be able to return home safely.
It said in a statement that although fighting appeared to have ended, ethnic tensions were still high and many people remain in hiding in the bush.
Some 27,000 people are still reported to be in a church in the western town of Duekoue, where they took shelter as pro-Ouattara forces advanced on Abidjan.