Burkina Faso: Mutiny at President Compaore barracks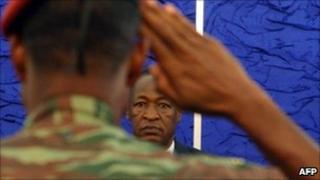 Soldiers in Burkina Faso's capital have mutinied, with gunfire resounding throughout Ouagadougou overnight.
The protests began when members of the presidential guard started shooting into the air in protest at unpaid housing allowances.
President Blaise Compaore is due to meet a UN envoy in the city later, officials say, after he fled overnight.
Mr Compaore, in power since 1987, had sought to calm soldiers earlier this month after similar complaints.
The BBC's Mathieu Bonkoungou in Ouagadougou says the unrest spread to other barracks and firing went on until just before dawn.
Sporadic gunfire could still be heard on Friday.
Marches were held on Thursday in the capital and other towns to protest at rising food prices and alleged human rights abuses, AFP news agency reports.
Burkina Faso, a struggling country of 16.3 million people, has been affected by the turmoil in neighbouring Ivory Coast.
The World Bank warned on Thursday that the Ivorian conflict had disrupted supplies and also pushed up prices for processed foods such as dried milk, sugar and vegetable oil in Burkina Faso and other landlocked countries in the region such as Mali and Niger.
'Surprise'
Ouagadougou-based journalist Mustapha Thiombiano says since the firing stopped at about 0500 GMT, many people have been too afraid to come out of their houses and are waiting at their homes, listening to the radio.
"No-one has slept," he told the BBC's Network Africa programme.
"We had a very very hard night - there were gunshots from machine guns to heavy artillery.
"It started with the presidential special guard and then followed by other military camps, so the whole city was like what you saw in Abidjan [in Ivory Coast]."
He said the house of the president's personal chief of staff had been burned down, some buildings and shops bombarded, including a pro-government radio station.
The mutiny has come a surprise to many residents as the president had recently held a reconciliation meeting with the security forces, listening to their demands, Mr Thiombiano said.
Mr Compaore has ruled the country since taking power in a coup from his friend Thomas Sankara 23 years ago.
He has since won four presidential elections, the latest in November 2010.