Nigeria's Ibrahim Shekarau in profile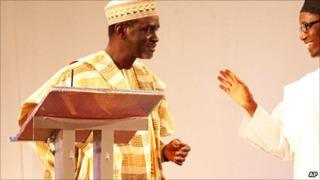 If Nigeria's polls were carried out on Facebook and Blackberry messenger, it seems the outsider - Ibrahim Shekarau, the current governor of Kano state - might just win.
His composure during the recent presidential debate impressed Nigerians - he was widely seen in the media as the "the winner".
His supporters boast of a leader embracing different ethnicities and religions in Kano, allowing non-Muslims to work freely in the local authority and reaching out to the Christian community.
From a modest start as a quiet maths teacher, his career took him to the civil service and to the governor's mansion in Kano.
Those who remember his early career do so warmly.
"He bought so much energy, zeal, enthusiasm to the classroom," says Bala Ibrahim, one of his former pupils.
"I was miserable at maths. But he walked the extra mile with me."
But his critics urge people to look instead at how his policies have shaped life in Kano state.
In 2003, Governor Shekarau became the focus of uproar as he suspended polio drops for children over rumours that Western immunisation programmes were a plot to sterilise Muslims.
An international outcry was too late to prevent the sudden resurgence of polio among children in northern Nigeria.
The suspension lasted for three months, while a medical panel considered the evidence.
"It happened amid a panic over all immunisations," says his spokesman Sule Yao Su.
"The governor even immunised his own daughter publicly, but it was not enough."
"We said: 'Let us stop while we examine polio, but let all parents continue with other vaccinations.'"
'Community policing'
Governor Shekarau's decision provoked horror in the medical world, and prompted questions over his background as an educationalist and mathematics lecturer.
He has also come under fire for his personal creation - the Hisbah Guard - Kano's feared religious police tasked with enforcing Sharia law.
"Hisbah is no more than what you call today community policing," the governor argues, insisting the force enjoy support.
A recent display put on by Hisbah Guard - in which 34,000 bottles of beer were destroyed - did draw massive crowds of chanting supporters.
But their banning of a peaceful protest by women wanting to demonstrate at Sharia divorce laws provoked accusations of authoritarianism.
"This rally will create a bad impression about the state… it is un-Islamic, and morally wrong," declared Hisbah's deputy commander-general.
The women were ordered not to march.
Governor Shekarau also faces charges of harassment and intimidation of filmmakers and artists working in "Kannywood" - Kano's once-thriving film industry.
"He has destroyed an industry of over a hundred thousand people - marketers, retailers, actors, writers," says a prominent film producer and actor, asking not to be named.
He told the BBC of his repeated arrests and imprisonment on charges of distributing films without the approval of Kano's State Censorship Board.
"We are not pornographers," he says, quietly. "But we have suffered a lot."
"According to them, nothing can be sold in Kano now without first, their approval," he says.
The Kannywood exodus has seen a flood of creative and business talents abandon Kano to work elsewhere.
However, Governor Shekarau, who is standing for the opposition All National Nigerian People's Party, dismisses his critics.
"We have a right to decide what is right for the community," he insists.
The deep unease many feel about Mr Shekarau reveals Nigeria's startling religious and cultural divisions - from the Muslim-dominated north with its bans on beer and prostitution, to the hustling, oil-pumping, pulsating southern states.
How he would succeed in transforming himself from a regional northern leader to a national leader is difficult to say.
It would not be easy.
"A Shekarau government would start by telling us what to watch, wear, eat and drink," fumes online commentator.
"Finally, it would tell us how to think. Is this the type of leadership we really want?"