Dutch marines kill Somali pirates, Iranian boat freed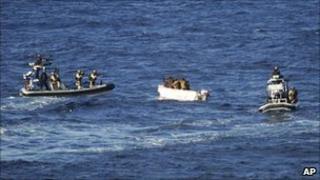 Dutch marines have killed two suspected Somali pirates and captured 16 others, the Dutch defence ministry says.
The alleged pirates were captured in an operation to free a hijacked Iranian fishing boat off the coast of Somalia.
The marines came under fire when they approached the fishing boat, the ministry said.
The suspected pirates are being questioned on board a Dutch warship which is taking part in a Nato anti-piracy mission in the Gulf of Aden.
Ten suspected pirates were caught as they tried to escape in a high-speed vessel and six were detained on the fishing boat.
It is unclear whether the captives will stand trial anywhere.
"Prosecutors will have to decide," Dutch Defence Ministry spokeswoman Marloes Visser told news agency AP.
He said the bodies had been "entrusted to the water" saying it was not practical to keep them on board the warship because of the high temperatures.
In the absence of a stable government, piracy can be highly lucrative in Somalia.
Gangs often receive millions of dollars in ransoms.
Many of the vessels targeted are cargo ships sailing near the Gulf of Aden, one of the world's busiest shipping lanes.
They have also expanded their field of operations to much of the Indian Ocean.