Ivory Coast eyewitness: Panic in Abidjan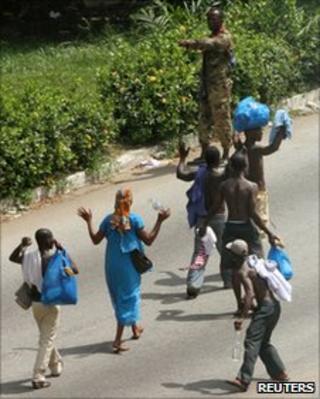 Nfor Susugi, a resident of Abidjan and a former senior official at the African Development Bank, tells the BBC's Network Africa programme that panic is spreading in the besieged city.
"All has been quiet as far as fighting is concerned out there today. There have been very few gunshots in the air.
No shops are open, the few that are open have run out of supplies. And so there's a kind of a panic situation that is prevailing all over town now on the dwindling supplies.
We bought a very big bag of flour and we have some yeast and some cooking oil, so what we do is we prepare puff puff [doughnuts] to have with coffee. That's part of our steady meal.
We are expecting that fighting is going to resume with considerable ferocity in the days ahead.
The threats of invasion [to oust Laurent Gbagbo] by Ecomog [the West African peacekeeping mission], which was very much in the air as part of the negotiations, actually led them [Mr Gbagbo's forces] to prepare.
There's some very, very tough resistance mood in this country from the inside, which may be not very visible from the outside.
But these guys [pro-Gbagbo forces] have been very much prepared for it and they are going to give any invading force a very tough fight.
Looting is a very big problem.
The [Alassane] Ouattara forces that swept down from the north came too quickly and they did not prepare themselves enough in having a supply chain in terms of food, water and so forth.
They find that the battle is dragging out. So many of the fighting forces are basically scrounging around for food, and that is part of what is doing the looting out there.
The stories that are coming out of the west - Daloa, Duekoue, Guiberoua - these are the hometowns of people like [Chelsea footballer Didier] Drogba.
I mean the worst publicity that you can acquire is the story that Drogba's town has been burned down.
You don't want to get that kind of negative publicity on your side. So they are not winning hearts and minds, I'm afraid, for the Ouattara camp right now.
The local television station shows him [Mr Gbagbo] with his closest advisers at the presidency in a very relaxed mood.
They are joking with each other, slapping each other's knees.
It's like 'they can handle it, they are ready for a long fight'.
Obviously you are a head of state and you are under siege, you cannot afford to give the impression that you are scared."